10 Best Upcoming Nintendo Switch Games To Add To Your Wishlist In 2019
Looking for the Best Nintendo Switch games for 2019? Here's is handy list of 10 upcoming Nintendo Switch Games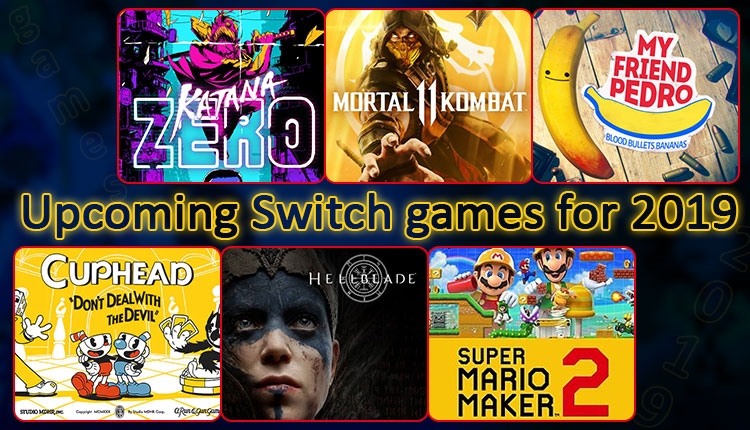 There are plenty of new Nintendo Switch Games including Pokemon Sword, Bayonetta 3, and Zelda are coming in the next few days. The list of best Switch Games is getting longer and longer as the day passes. If you are confused to select the better one, we have brought you a list of upcoming Nintendo Switch Games in this article which will definitely help you.
The year 2019 appears to be the best year for Switch Games as Nintendo is all set to launch dozens of games soon. The list of upcoming Nintendo Switch Games we have compiled for you are already available on the official website, Nintendo.com.
Here is a handy list of 10 Best Upcoming Nintendo Switch Games
1. Cuphead:
After platforms such as Xbox One, and PC exclusive, Studio MDHR's run and Gun indie video game, Cuphead will soon be available to Switch games. This upcoming switch game was first announced in the year 2014. The game was released for Microsoft Windows and Xbox One in September 2017 and for Mac Os in 2018. According to reports, The Nintendo Switch version of Cuphead is scheduled to release in April 2019. Buy Nintendo Switch Game in Cheaper Price.
Cuphead is inspired by the rubber hose style of animation used in cartoons of the year 1930s. This video game features either one of two players who can take control of animated characters Cuphead and his brother Mugman to fight through several levels that conclude in boss fights in order to repay their debt to the devil. Notably, Cuphead has reportedly won several awards and accolades for its art, animation, and music.
Cuphead Release Date: 18 April 2019
Genre: Action
Price: $19.99
2. Mortal Kombat 11:
Mortal Kombat 11 is one of the most anticipated video games of 2019. The game has been available for PC, PS4, Xbox One and will soon be available for Nintendo Switch. The NetherRealm Studios' Mortal Kombat 11 is the sequel to Mortal Kombat X. The announcement of Mortal Kombat 11 for PC, Xbox One, and Microsoft Windows, Nintendo Switch and PlayStation 4 were made at The Game Awards last year. The game was earlier supposed to launch in January 2019 but it was delayed. Now, the game is all set to launch on 23 April 2019. Best Free PC Games Download – List Of Top 15 Free Game
New and classic characters are returning for the madness of Mortal Kombat's sidescrolling fights, and if spine-ripping finishers are your kind of thing then this is one for you.
Release Date: 23 April 2019
Genre: Fighting
Price: $59.99
3. Super Mario Maker 2:
Yes, Super Mario Maker 2 is all set to get launched for Nintendo Switch Game soon and it is much better than we have had earlier experienced it before. It will have a wider range of background, enemies, and an amazing Cat Mario outfit. The game has been developed and published by Nintendo for their Switch game. It is a successor of Super Mario Maker which was first appeared in 205, in which players were allowed to create their own custom courses by using assets from various games across the Super Mario franchise and share them online.
Super Mario Maker 2 maintains the same system of gameplay as the original with several additional features including new elements from Super Mario 3D World.
Release Date: June 2019
Genre: Simulator
Price: Not Disclosed Yet
4. NeoCab:
NeoCab video game is an emotional survival game about staying human in a world disrupted by automation. You play this game as Lina — the last human driver on the neon-drenched streets of Los Ojos. Suddenly, your best mysteriously disappears and you find yourself in a strange city. Choose your passengers— and your words— wisely. If you can balance your cash, star rating and emotional health, you might just keep your job long enough to find her.
This Nintendo Switch Game is mostly driven through narration and the conversations you'll have with the people who drop into your back seat, but with a significant cyberpunk-slant. It looks to be quite the story, especially as you have to manage your driver rating and your emotions along the way.
Release Date: Summer 2019
Genre: Adventure, Simulator
Price: Not Disclosed Yet
5. Pokemon Sword and Shield
Pokemon Sword and Pokemon Shield will soon available on Nintendo Switch Games, it has been developed by Game Freak and published by Nintendo and The Pokemon Company for the switch. The Pokemon company has had its own wired internal rule about mainline entries on portable systems and spin-offs on consoles. However, Nintendo seems to have bent those rules a little bit. Nintendo had recently revealed that it is currently working with Pokemon for their hybrid console. A pair of Pokémon Switch games named Pokemon Shield and Pokemon Sword will arrive late 2019 and will introduce Gen 8 Pokemon, alongside a brand new region, Galar.
Notably, they will be the first main series games in the eighth generation of the Pokémon series.
Release Date: Late 2019
Genre: Adventure, Simulator
Price: Not Disclosed Yet
6. Pine
Pine is also one of the upcoming Nintendo Switch Games of 2019. It is an open-world action adventure simulation game. This game will allow you to take on the role of Hue, who belongs to one of the last remaining tribes of humans on the island of Albamare. You will have to find your own way through an ever-changing world in which all creatures have their own lives, goals and guest.
In addition, you need to fight and find ways to influence the ecology and more in search of a new home. There are several puzzles in Pine which you will have to solve too.
Release Date: August 2019
Genre: Adventure, Action
Price: Not Disclosed Yet
Rad is an upcoming Switch Game of Double Fine Production. Notably, it is a third person, top-down action game which features a young boy who battles his way through a procedurally-generated post-apocalypse by adopting mutant powers. In this 3D action rogue-like set in a post-apocalyptic world, humanity has faced armageddon not once, but twice.
In Rad, humanity's future comes at great personal cost, as the deeper you journey into unknown lands, the more you will expose yourself to gnarly toxins which will wreak havoc on your fragile human form. The destiny of the world depends on you, your trusty bat, and whatever strange new abilities you gain as the world around you ravages your body — twisting and mutating you into something far less than human, but far more powerful. it is being headed up by Lee Petty.
Release Date: Summer 2019
Genre: Action
Price: Not Disclosed Yet
8. My Friend Pedro

The shoot 'em up video game My Friend Pedro is all set to release on Microsoft and Nintendo Switch together in June this year. The player uses a mix of spilt aiming and slow motion techniques to kill the enemies. They can also jump off walls while doing flips, bounce bullets off frying pans and signs or kick things like severed heads from the floor into the enemies. It is to be noted that Players are rewarded an additional bonus when they kill enemies.
The systematic use of split aiming, slow motion, and the ol' stylish window breach create one sensational action sequence after another in an explosive battle through the violent underworld.
Release Date: June 2019
Genre: Action
Price: Not Disclosed Yet
9. The Legend of Zelda: Link's Awakening

The Legend of Zelda: Link's Awakening is a 1993 action-adventure video game, which has been developed by Nintendo Entertainment Analysis & Development and published by Nintendo for the Game Boy. Notably, It is the fourth instalment in The Legend of Zelda series, and the first to be released on Nintendo Switch.
Link's Awakening was critically and commercially successful. Critics praised the game's depth and a number of features; complaints focused on its control scheme and monochrome graphics.
Release Date: 2019
Genre: Action, Adventure
Price: Not Disclosed Yet
10. Katana Zero
It is Askiisoft's upcoming Switch Game developed by Digital for Nintendo Switch Games. Katana Zero is a 2D action platformer video, which is set to be released for PC and Nintendo Switch on this week. This video game will have no health bar and note that if you get hit you might die instantly the way in Hotline Miami. The player navigates sidescrolling levels, attempting to kill all enemies in that level using their blade or environmental traps. The player can deflect bullets with their slash, as well as dodge attacks using rolls.
Katana Zero also features a real-time conversation system that the player can interrupt.
Release Date: 18 April 2019
Genre: Action, Adventure
Price: $14.99