Mumbai: 11 Killed, 8 Injured As 3-story Building Collapses In Malad
11 dead, 8 injured as residential building collapses in Mumbai's Malad West due to heavy rainfall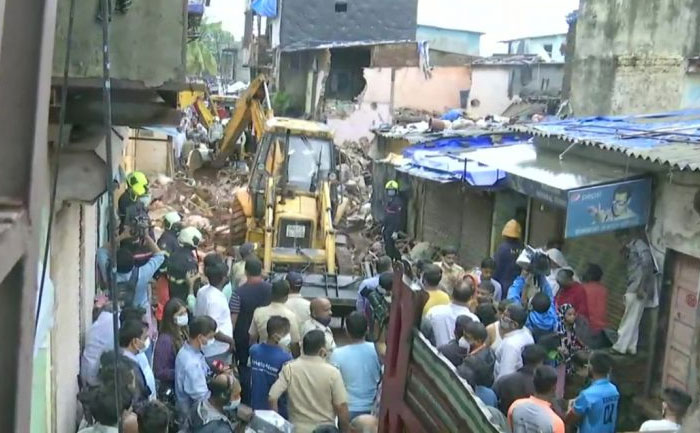 11 people were killed and 8 injured as a three-story dilapidated building in the New Collector compound, Malad West collapsed. The incident took place late on Wednesday night. Many are believed to be trapped under the debris. A search and rescue operation is underway. Residents joined the fire and police officers in rescuing people. The injured persons have been shifted to BDBA hospital.
Visuals of search & rescue operation by Fire brigade in a building collapse at Malvani Gate No 8,Malad (W) last night.

A portion of 2nd & 3rd floor of a Gr.+ 3 residential building collapsed on adjacent G+1 floor chawl injuring 17 people. Unfortunately 9 reported dead so far pic.twitter.com/x9dYx5vmOa

— माझी Mumbai, आपली BMC (@mybmc) June 10, 2021
BMC added that the collapse engulfed a nearby residential structure in the area. It is in a dangerous condition and people living there have been evacuated. The civic body also said that residents from three nearby buildings were evacuated as structures were not in good condition.
Maharashtra: Search and rescue operation continues in New Collector compound, Malad West of Mumbai, where residential structures collapsed last night. 11 people died, 7 injured.

Visuals from the spot, this morning. pic.twitter.com/ct7HhErNHF

— ANI (@ANI) June 10, 2021

Maharashtra Minister Aslam Shaikh, who has also reached the incident site, said, "Buildings have collapsed due to rain. Rescue operation is underway. Injured people have been shifted to the hospital. Debris of the buildings is being removed to see if more people are stuck under it."
Heavy rains lashed Mumbai and its suburbs on Wednesday, causing flooding on roads and rail tracks.
Also Read: Mumbai Rains: Waterlogging Woes As Heavy Rainfall Lashes City