5-Year-Old Mizoram Girl Singing National Anthem Is Winning The Internet
This Video of a 5-Year-Old Girl Singing the National Anthem in Army Uniform is adorable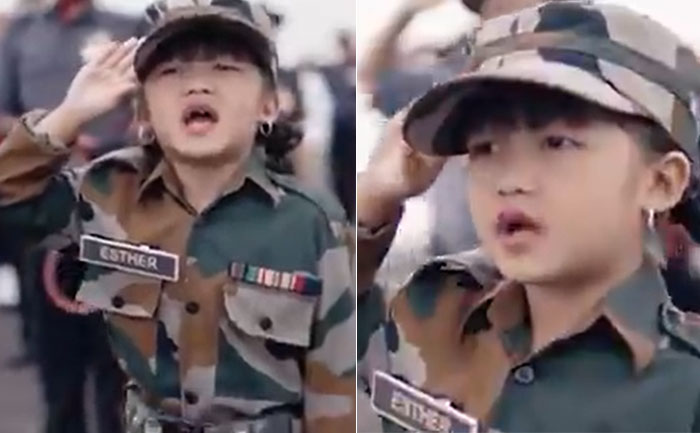 A young girl from Mizoram has joined the list of celebrities. Her soulfully rendition of the National Anthem has left netizens enthralled. The five-year-old Mizoram girl Esther Hnamte singing the National Anthem caught the attention of Mizoram Chief Minister Zoramthanga and lakhs of netizens.
Watch her viral video here:
In the viral video, Esther could be seen singing along with the 3 Assam Rifles in her hometown Lunglei. She held the Indian flag in her hand as she sang the national anthem. The 2-minute video is said to be a tribute to all the heroes who sacrificed their lives for the freedom of the country. Her video garnered more than 3 million views alone on YouTube.
Air Marshal Anil Chopra (Retired) also shared the video on his Twitter handle and wrote, "Indian Army heard the viral singing of National Anthem by a 5 yr old girl named Esther Hnmate from Mizoram. They traced her and with army band recorded the National Anthem. Results were simply mesmerising. See the girl in uniform too."
She had gone viral last year when she sang a contemporary version of the national song 'Vande Mataram' titled 'Maa Tujhe Salaam'.
Mesmerizing Esther Hnamte, a 4-years-old kid from Lunglei, Mizoram singing
Maa Tujhe Salaam; Vande Mataram https://t.co/at40H8j3zv pic.twitter.com/O1Nq2LxACK

— Zoramthanga (@ZoramthangaCM) October 30, 2020
PM Modi too had praised her on Twitter. The Prime Minister praised Esther's rendition and wrote, "Adorable and admirable! Proud of Esther Hnamte for this rendition," retweeting the Mizoram CM's tweet.
Esther has over 5 lakh YouTube subscribers where she regularly uploads her renditions of various songs.
Also Read: Independence Day 2021: Kiara Advani, Akshay Kumar & others extend wishes