World Cup 2018: Messi misses penalty; Iceland hold Argentina 1-1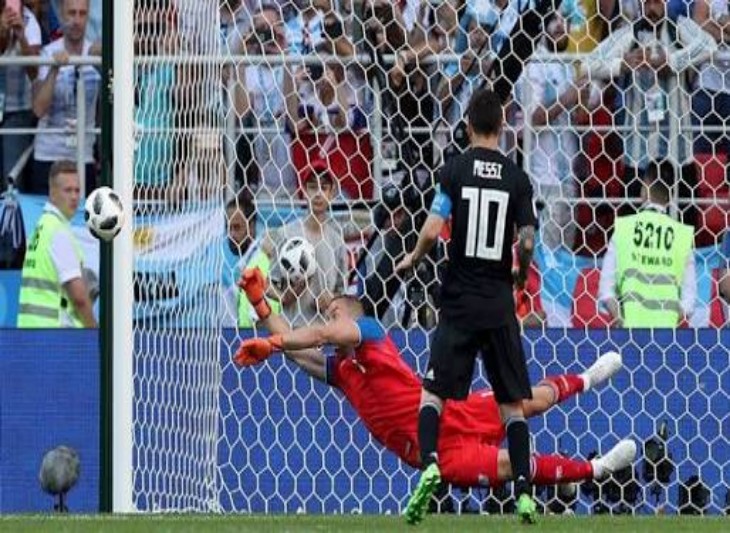 Mumbai: Five-time Ballon d'Or winner Lionel Messi missed a penalty as Argentina were held to 1-1 draw against World Cup debutants Iceland in the opening Group D fixture at the Spartak Stadium on Saturday.
Sergio Aguero opened the scoring for Argentina in the 19th minute, while Alfred Finnbogason equalised for Iceland four minutes later. Both goals came out of nothing, potentially mishits. Center back Marcos Rojo shot the ball nowhere from the central park, but it somehow found Aguero's feet and the Manchester City forward made no mistake, finding the top right corner after beating three defenders with a Messi-esque turn.
It was a similar kind of tale for the debutants, who scored as a reason of some sloppy Argentine defending. A long cross that should have easily been dealt with by Argentina, however ended up inside the net.
But apart from that goal, 'The Vikings' spent most of the 90 minutes defending. It was a game heavily controlled by the South Americans with 78% ball possession and 27 shots on goal. In contrast Iceland had just eight shots, all of which came in the opening 45 minutes.
'La Albiceleste' had as many as four shots in the opening 10 minutes and should have decided their fate during that period but some great defending meant the scoreline remained the same. They were however given a lifeline in the 60th minute when Horour Magnusson threw down Messi inside the D box.
The 'Little Magician' stood up but failed to convert from the spot with Icelandic custodian Hannes Halldorsson pulling out another save. It was however not the end as minutes later the Barcelona star came close again.
Argentina could also claimed at-least another penalty but were denied twice. Magnusson had twice in the opening half handled the ball both from Salvio's shots.
But while Argentina failed to convert their chances with Messi missing perhaps their best opportunity, Iceland showed the world they were not mere minnows. Playing their first ever World Cup match, the European newbies lived up to the occasion.
It ensured them a point and more than that an expectation of making it into the next round. Argentina on the other must regroup quickly or will face similar nights in their next two matches. But today the 'Viking Clap' stood tall and will stand loud all night.