Aaliyah Kashyap TALKS about mental harassment after posting lingerie pic; See post
Anurag Kashyap's daughter Aaliyah opens up on mental harassment after her photo wearing lingerie went viral.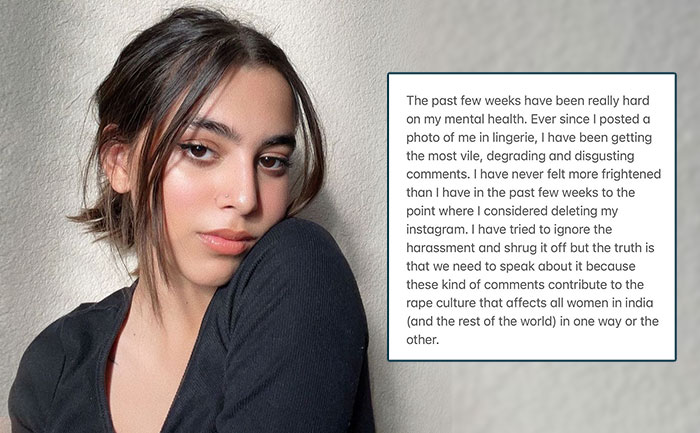 Filmmaker Anurag Kashyap's daughter Aaliyah Kashyap is a social media influencer and has her own YouTube channel. Recently, she posted a picture of herself in lingerie, and ever since she uploaded it, she has been receiving a lot of backlashes and even got rape and death threats.
On Friday, Aaliyah took to her social media handle and spoke about the mental harassment, she also shared screenshots of the threats she has received. In her post, she said that ever since she uploaded the lingerie photo, she has been receiving the vilest, degrading, and disgusting comments. She also said that she has never felt more frightened than in the past few weeks to the point that she considered deleting her Instagram handle.
Check out Aaliyah Kashyap's post:
Aaliyah also revealed that she was sexually assaulted as a minor by a middle-aged man and the double standard of the people have not only harassed her, but also many other women, who are 'hypocrites.' She said that these people pretend that they are on a moral high ground but in reality, but they are the ones promoting the 'rape culture.'
Lastly, slamming the haters, she said that nothing a woman does is an invitation. She said that nothing she does or posts on her social media is an invitation for sexual assault. "This is my body, my life, and I choose what I want to do with it," she concluded.
Earlier, Aaliyah also spoke about her experience with being cyberbullied on her YouTube channel.
ALSO READ: VIDEO: Anurag Kashyap's Tik Tok Videos With Daughter Aaliyah Is Worth Watching