Abhijeet Bhattacharya insults Shah Rukh Khan says 'I made him a superstar'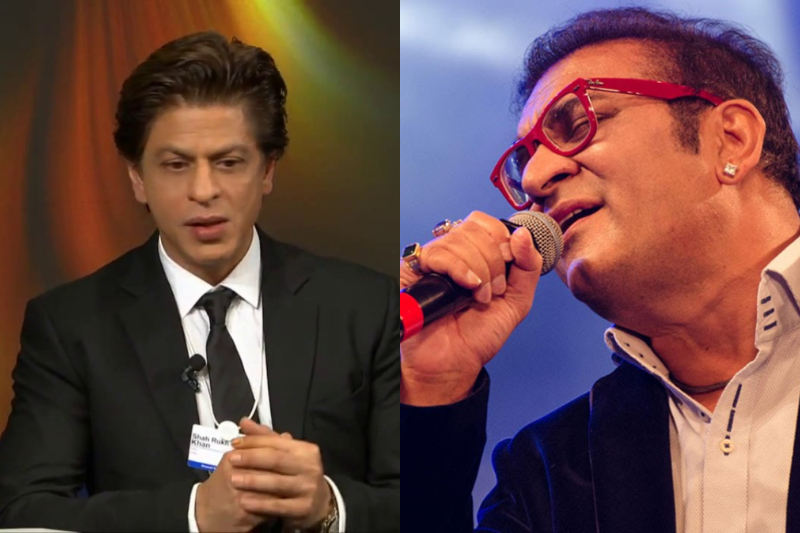 Indian playback singer Abhijeet Bhattacharya, known for singing chartbuster songs for Shah Rukh Khan as his voice is synonymous with King Khan in songs like Main Koi Aisa Geet Gaun and Tumhe Jo Maine Dekha. Later, Abhijeet Bhattacharya stopped singing songs for Shah Rukh Khan.
At India Today Safaigigi Summit and Award 2018, Abhijeet Bhattacharya insulted Shah Rukh Khan saying, "It was him who made Shah Rukh Khan a Superstar."
Bhattacharya also claimed to have played his voice a major role to make him a superstar. He also said, the moment I stopped singing a song from him, he came down to Lungi Dance.
Apart from Shah Rukh Khan, he also insulted Bollywood saying, he does not belong to Bollywood, he considers himself as a part of the Indian music Industry.
"It was a very small reason I stopped singing for Shah Rukh. In Main Hoon Na, they showed everyone from a spot boy to everyone else, but the singers. The same thing happened with Om Shanti Om. Stars sang Dhoom Tana. It was my voice. But it wasn't shown anywhere. The self-respect was hurt. Why should I ask them to add my name? The problem is I don't lack anything. So why should I ask for this?" Bhattacharya further said.
This was not the first time when Bhattacharya embroiled in controversy. Earlier, he had lashed out at 'Khans of Bollywood', comprising Shah Rukh Khan, Salman Khan and Aamir Khan by calling them 'shameless' for breeding Pakistani actors. He also attacked ace filmmakers Karan Johar and Mahesh Bhatt for supporting the Pakistani actors.
Earlier too, Abhijeet had made the similar claims, to which Shah Rukh Khan replied.
Watch this video to listen what Shah Rukh Khan said.

Also read: Bollywood diva Soha Ali Khan turns 40, Happy Birthday