When Ajay Devgn got irked with questions asked about Shah Rukh Khan
Throwback to the time when Ajay Devgn was pissed off with repeated questions about Shah Rukh Khan at an event.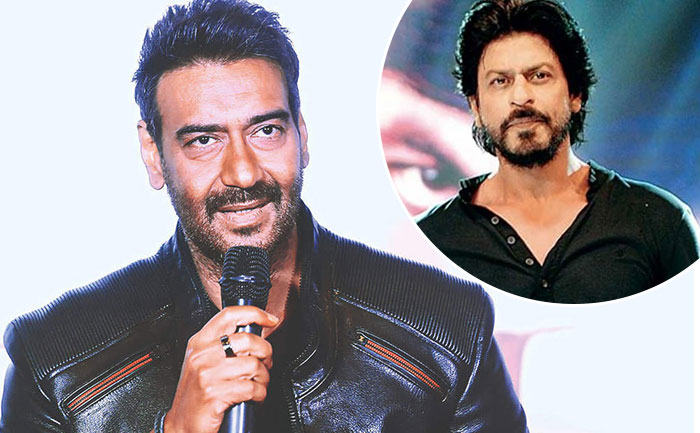 Bollywood has had its fair share of rivalries which were more dramatic than a television show and one of such rivals are Ajay Devgn and Shah Rukh Khan. Shah Rukh Khan and Ajay Devgn are the most popular celebrities in the showbiz industry. However, they have their own share of disagreements which have been proved in various situations. However, Ajay and SRK's cold vibes did not freeze up Shah Rukh and Kajol's friendship
The two of them have always rooted for each other's movies from time to time which means that the two actors share good compatibility as of now. For the situation, Shah Rukh Khan shared a poster of 'Tanhaji: The Unsung Warrior' on his Twitter handle and wished Ajay for the 100th film of his career also motivated him to keep doing more films. To which, Ajay appreciated his gesture and thanked him for the same.
However, there was a time when Ajay Devgn was miffed with questions asked about Shah Rukh Khan at the press conference that was held for the release of Singham Returns' trailer. There were reports that the replies that Devgn came as a rude shock for everyone present there.
The cause for such questions during the conference was that there were reports about Shah Rukh's film Happy New Year's promo to be released with Ajay's film, 'Singham Returns. It was also said that Khan had visited Rohit Shetty's set as well.
Confirming the same, Ajay even responded to one of the doubts stating that SRK did visit the sets of the film and had some chat with Rohit. The director was also questioned on the relation between Ajay and Shah Rukh, he avoided the question and said that he would answer it some other time.
Reports also suggest that the rivalry between these two is because they were pitted against each other during the release of their respective films, 'Son of Sardaar' and 'Jab Tak Hai Jaan.' It was also stated that these films had some legal battles related to the market. Nevertheless, these two are back on good terms again.