Ajay Devgn's Into The Wild with Bear Grylls Trailer Out
Bear Grylls Into the Wild trailer Unveiled. Ajay Devgn Tests His Survival Skills In The Wild Like A Pro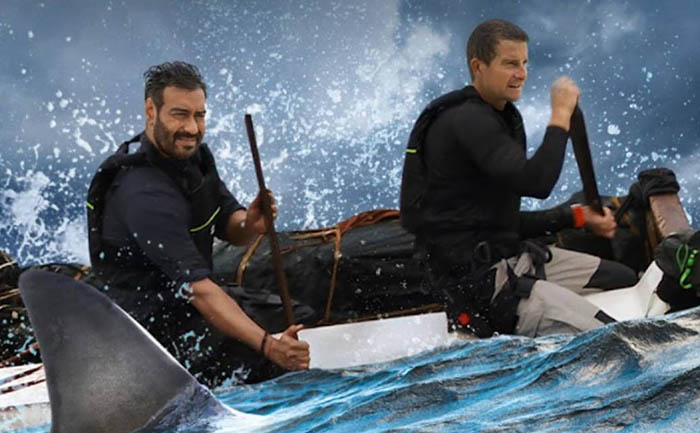 After PM Narendra Modi, Rajinikanth and Akshay Kumar, we now have Bollywood Singham Ajay Devgn testing his survival skills in the wild. The actor will soon be seen on the show Into The Wild With Bear Grylls. Today the Bhuj star took to his social media handle and not only shared the trailer but also the release date.
Ajay Devgn took to his Twitter handle and wrote, "They say you will never know until you go and so I did! Exploring the uninhabited Islands of the Indian Ocean with @BearGrylls. yeh koi khel nahi hai bro! Here are glimpses of our unforgettable journey of #IntoTheWild premiering 22nd Oct @discoveryplusIN & 25th Oct @DiscoveryIN."
Check out the trailer here:
In the trailer, Ajay Devgn is seen taking up challenges with host Bear Grylls. Bear Grylls and Ajay Devgn are seen embarking on their journey through a sea dominated by sharks and unfavourable weather. They eventually move to uninhabited islands. Bear Grylls is also seen having some candid conversations with Ajay on his family, career and life. Moving out from his comfort zone, Ajay Devgn is seen going beyond his endurance skills to survive in the most desolate islands of the Indian Ocean. The actor shot for the episode in the Maldives.
The episode will stream on October 22 exclusively on discovery+ at 6 am IST. The broadcast premiere of the show is scheduled at 8:00 PM IST on October 25.
Also Read: Happy Birthday SS Rajamouli: Mahesh Babu, Ajay Devgn & Others Pen Heartfelt Wishes