BLACKPINK Fans Can't Get Over How Similar Instagrammer Allissa Shin Looks To Rose, Allisa Has A Message For The Haters
The Instagram personality currently has 17.6 thousand followers on the social media platform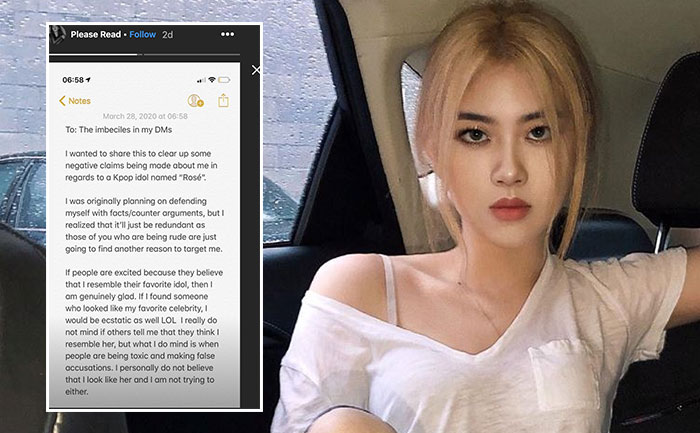 Social media influencer Allissa Shin has seen a dramatic rise in popularity due to her resemblance with BLACKPINK singer Rose. The Instagram personality currently has 17.6 thousand followers on the social media platform. However, Allissa Shin has caught the eye of BLACKPINK fans who cannot get over how similar she looks to the K-Pop idol Rose.
The attention has mostly been positive. A lot of fans have complimented her look as well as pointed out the resemblance in a positive manner. However, there are always people who have to react negatively to everything. It was no different in the case Allissa Shin as some fans accused her of copying Rose.
However, the Instagrammer is having none of the hate. Allissa Shin took to her Instagram to directly address the toxic fans accusing her of trying to look like Rose. She strongly asserted her individuality while also thanking followers for their positive comments.
Allissa Shin Has A Message For Haters
Shin wrote in her Instagram story, "I wanted to share this to clear up some negative claims being made about me in regards to a Kpop idol named "Rosé. I was originally planning on defending myself with facts/counter-arguments, but I realized that I'll just be redundant as those of you who are being rude are just going to find another reason to target me."
She continued, "If people are excited because they believe that I resemble their favorite idol, then I am genuinely glad. If I found someone who like my favorite celebrity, I would be ecstatic as well LOL I really do not mind if others tell me that they think I resemble her, but what I do mind is when people are being toxic and making false accusations."
"I personally do not believe that I look like her and I am not trying to either," Shin stated.
Allissa Shin also made it clear that she wasn't going to change her appearance because she resembled Rose. "None of this means that I am going to change my appearance to satisfy you, so stop trying to bring me down. It's a waste of both my time and your time," she wrote. "I am not going to change my hair, make-up, or fashion because you are speculating that I am trying to look like Rose. Do not assume that I am changing my whole lifestyle/appearance to look like someone because I know that I am Allissa Shin, not Rose."
ALSO READ: BLACKPINK To Release Summer Diary Featuring Their Vacation In Hawaii