Amit Shah blames West Bengal CM Mamata Banerjee for shielding 'Bangladeshi Infiltrators'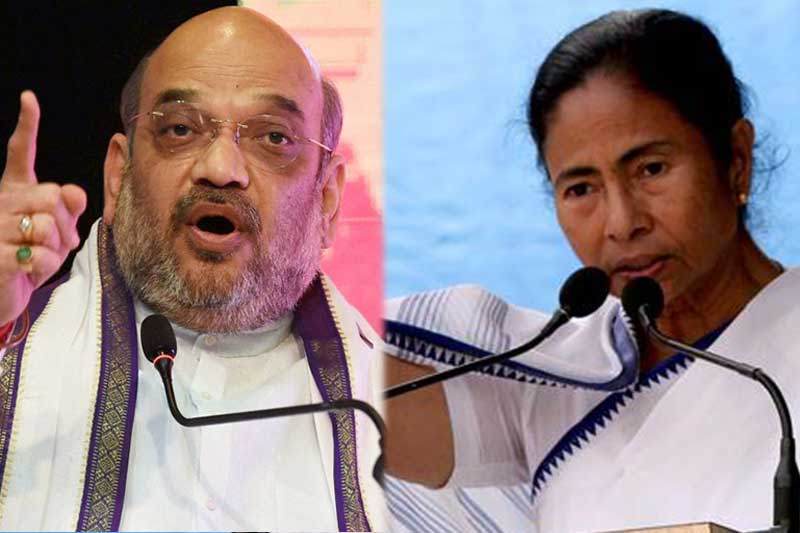 BJP President Amit Shah said on Saturday only the Bharatiya Janata Party can bring progress in Bengal as he urged the people to uproot the Mamata Banerjee-led Trinamool Congress government from the state.The BJP President was shown black flags by youth Congress workers, before he reached the venue. The youth Congress workers raised slogans against Mr Shah and Prime Minister Narendra Modi. They also tried to block his convoy by putting their bikes in the way. The police, however, got the way cleared for Amit Shah's convoy. Amit Shah was welcomed in the state by BJP state in-charge Kailash Vijaywargiya and Dilip Ghosh.
Addressing a massive rally in central Kolkata's Mayo Road, Shah came down heavily upon the West Bengal's ruling party, accusing it of being involved in a series of corruption cases, besides destroying the law and order situation in the state.
Amit Shah came down heavily on the Trinamool Congress Chief Mamata Banerjee. He accused her of shielding Bangladeshi 'infiltrators' in one of his speeches. "We want to ask Mamata Banerjee why she is protecting Bangladeshi infiltrators. Rahul Gandhi is also not clarifying his stand on the issue. This is because of Congress's vote-bank politics," said Shah.
He further added, "Look what Mamata Banerjee has done with a great place like Bengal… businesses and industries are suffering, but the corrupt and syndicates are flourishing… rule of law is non-existent, gunda-raj is at an all-time high… you all saw what happened during the panchayat polls some time ago…. Bengal was the land of literature and music… now all you read and hear about is bomb-making units and explosions… this is Mamata Banerjee's Bengal".
Shah also accused Mamata of stifling voices supporting BJP and Narendra Modi. "Mamata Banerjee may have shut the TV channels or stopped them from broadcasting my speech, but I have confidence on my party workers. Our army of party workers will go from house to house, lane to lane, village to village, district to district, town to town, and city to city… and there is nothing Mamata Banerjee can do to stop us. We are not afraid of hard work".