Amritsar train accident: Driver is lying, say eyewitnesses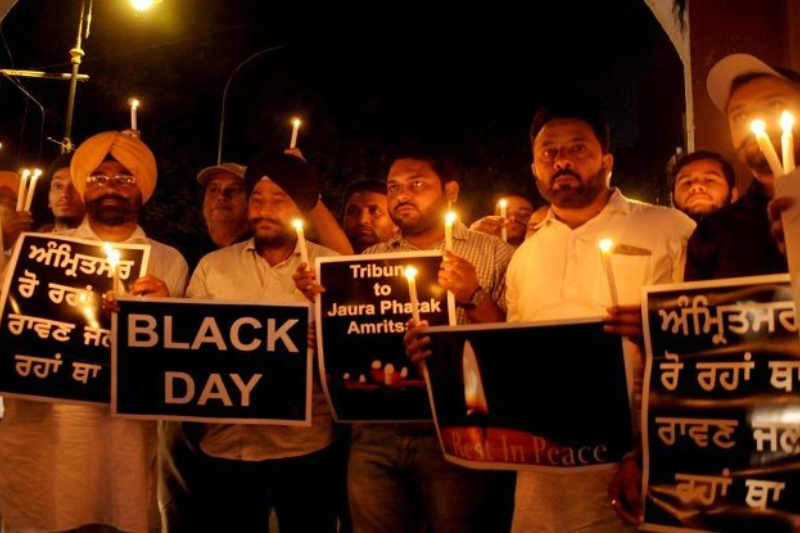 Two days after a train mowed down over 60 people in Punjab's Amritsar, local residents on Sunday rejected the train driver's statement, which was "the train was about to stop when people began pelting stones, so I started the train for the safety of the passengers."
Recounting the event that occurred on Friday — leaving more than 60 people dead and several injured, local councillor Shailender Singh Shally claimed that the train did not even slow down — let alone stop. "It seemed as if the driver wanted to run over us. The train passed us in a matter of seconds. Would it have been logically possible for us to throw stones at the train when we were in such a state of shock when there were so many people lying dead and injured around us? The driver is lying," he said.
The incident sparked an uproar in Punjab, with attempts by protesters to block the railway route giving rise to clashes with the police. While opposition parties held ruling Congress party responsible for the horrific incident.
The train driver said in a statement, "he applied the emergency brake while continuously honking yet some people came under the train."
Also read: Amritsar train accident: 61 dead as speeding train mows down 
Acknowledging that, he said, "I knew people were killed, but I had to keep driving keeping in mind the safety of passengers."
"The people began throwing stones at the train when it was on the verge of stopping. As I had the safety of my passengers in mind, I continued towards Amritsar and informed the officials concerned about the accident," he said in the statement.
Countering his statement, Paramjeet Singh — another witness claimed saying, "There are hundreds of videos showing how fast the train went. We didn't even get a chance to react. All we could hear was the sound of people screaming and crying," he asserted.
The maximum speed of a train pulled by a diesel-powered locomotive is 96 Kmph. Divisional Railway Manager (Ferozpur) Vivek Kumar said the last-recorded speed of the train was 68 kmph.
"As far as I know, there was no stone throwing at the spot of the accident," said Mohkampura police station officer Sukhminder Singh, adding that the train had not slowed down either.
The opposition Shiromani Akali Dal also demanded the immediate sacking of Punjab Minister Navjot Singh Sidhu, whose wife had attended the event, and a judicial probe into the circumstances that led to the accident.
Train services had resumed a few hours later.
Also read: Amritsar train accident: Driver had no clue about Dussehra celebration near tracks