Anu Malik Trolled For Copying Israeli National Anthem In 1996 Song
Twitterati troll Anu Malik for copying his 'Mera Mulk Mera Desh' song as Israel's National Anthem plays at Tokyo Olympics.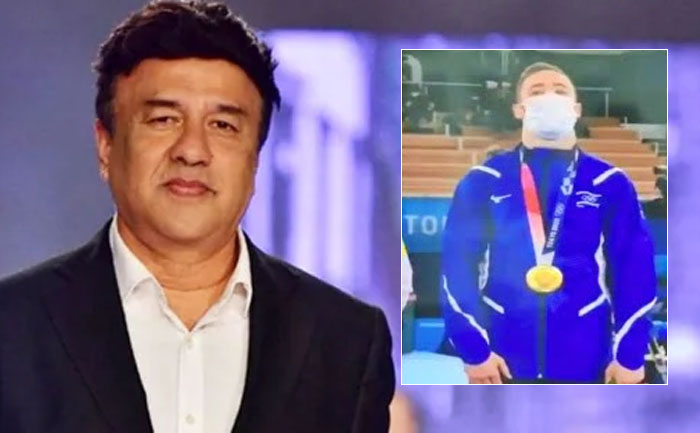 On Monday, Anu Malik was trolled by netizens on Twitter after he was accused of plagiarising Israel's national anthem titled Hatikvah for his song 'Mera Mulk Mera Desh' from Ajay Devgn and Sonali Bendre's 1996 film 'Diljale' after Artem Dolgopyat made history when he won Isreal's first Olympics gymnastics gold and he was presented his medal, the country's national anthem.
'Mera Mulk Mera Desh' song was sung by Aditya Narayan and Kumar Sanu and its music was directed by Anu Malik.
Many users took to Twitter and criticized Anu Malik for plagiarising the tune of Israel's national anthem. "Israel won their second-ever Gold at Olympics and Indians ended up remembering Anu Malik," a Twitter user wrote. Another user wrote, "Anu Malik copying the national anthem of a country to make a Bollywood song is so Anu Malik!"
Check out the tweets:
When Israel copied its National Anthem from Urduwood maestro Anwar (Anu) Malik's national anthem from film Diljale

Diljale was a story of dreaded Kashmiri terrorist named Shyam 🤔pic.twitter.com/J5E5VHHv7y

— Gems of Bollywood (@GemsOfBollywood) August 1, 2021
Anu Malik after copying national anthem of Israel for his song mera mulk mera desh: pic.twitter.com/Y03OgBpUbP

— Mehul Beniwal (@MehulBeniwal) August 1, 2021
Anu Malik will be registering a case against Israel for copying tune from 'Diljale's- Mera Mulk Mera Desh' 1996 as their National Anthem.#AnuMalik #plagrism #Olympics2020 #tokyoolympic2020 pic.twitter.com/UnBiso3koe

— Manoj Biswas (@imanojbiswas) August 2, 2021
Anu Malik copying the national anthem of a country to make a Bollywood song is so Anu Malik!

— Aniket Malpani (@aniketmalpani) August 2, 2021
Anu Malik just simply didn't copy Israel national anthem in 1996 film diljale song. It needs years or reaserch and analysis to find out which country isn't going to win medals for years. Visionary man.

— EngiNerd. (@mainbhiengineer) August 1, 2021
When Fans came to Know the Song of The Movie Diljale 🎶Mera Mulk Mera Des🎶 Composed by Anu Malik was Inspired by Israel's National Anthem,Fans to #AnuMalik 😿 pic.twitter.com/jvt4AiWNne

— Tadkamarkey 2.0 🇮🇳 (@AnilPil63050188) August 1, 2021
Anu Malik after watching Israeli National Anthem being played on TV – pic.twitter.com/DfCoUeq2ZR

— g0v!ñD $#@®mA (@rishu_1809) August 1, 2021
This legend had a way better instinct for Anu Malik years ago. pic.twitter.com/J5xYeTwP9L

— Shantanu Dwivedi (@Shantan21125143) August 1, 2021
Bollywood should start Giving "Best Music Copying" awards.
80-90% Bollywood will be in Competition.
Anu Malik will end up getting "Lifetime Achievement award for copying"

— Ankit Singh⚡ (@Funtastic_Beast) August 2, 2021
Well, this ain't the first time Anu Malik has been accused of plagiarism. The music composer has been in the headlines on several occasions for copying. Earlier, his song like: 'Dil Mera Churaya Kyun', 'Kaho Na Kaho', 'Neend Churayi Meri,' and 'Nasha Ye Pyar Ka Nasha' are many other songs have been reportedly inspired by international songs.
Anu Malik has been composed music in Bollywood for over 40 years now. He is currently judging the singing reality show, 'Indian Idol 12,' along with Sonu Kakkar and Himesh Reshammiya.
Stay tuned to The Live Mirror for more updates.
ALSO READ: #MeToo Accused Anu Malik May Return To TV With Superstar Singer, Not Indian Idol?