Article 15: Anubhav Sinha posts open letter for those offended with the trailer
Anubhav Sinha got a warning from Karni Sena and Brahmin Maha Sangh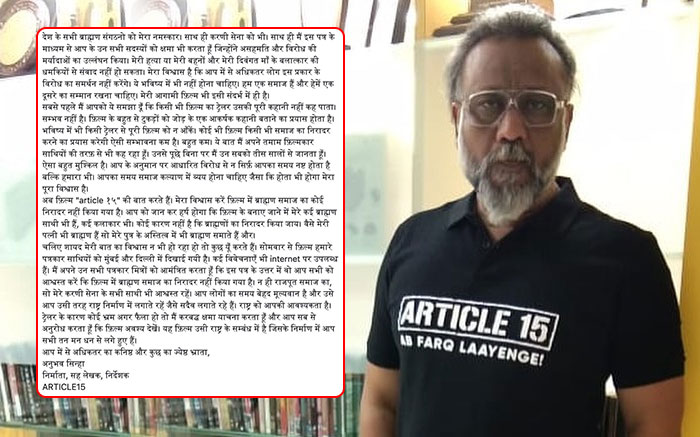 Anubhav Sinha's directorial Article 15 is all set to release on June 28 and ahead of the movie release, the filmmaker has released an open letter for those who are offended with the trailer. For the unversed, Article 15's trailer has irked the Brahmin community for showing the upper caste in a negative way. It is reportedly inspired by the Badaun rape and murder case and Brahmins feel that the story has been twisted. In the trailer, it is shown that the rape accused are of upper caste, so they feel that it will defame their community. Today taking to his Twitter handle, Anubhav Sinha shared the picture of his open letter.
In the letter, he wrote that Article 15 has no intention to defame the Brahmin community. Towards the end of the letter, he also apologised if there has been any wrong perception or misunderstanding due to the trailer of Article 15. He also requested everyone to go and watch the movie.
Read his open letter here.
An open letter to all offended from my film's trailer #ARTICLE15 pic.twitter.com/LE8QTjpkLx

— Anubhav Sinha (@anubhavsinha) June 26, 2019
This open letter was posted after Karni Sena and Brahmin Maha Sangh, issued a warning to the filmmaker for causing "communal disharmony".
Today both the groups held a press conference in Mumbai where Pankaj Joshi, chairman of Brahmin Maha Sangh said, "I am warning filmmaker Anubhav Sinha that this film should be banned and Brahmins name should be removed within 48 hours, or else we will enter his office and whatever happens next, is not our responsibility." (as reported by The Hans India)
Article 15 has Ayushmann Khurrana in the lead role of an IPS officer who will be seen fighting the menaces of the society.
Also Read: Anubhav Sinha: I Am Thinking Of Registering All Articles Under My Banner