AR Rahman's Avengers Endgame Hindi Anthem Is Out: Fans Call It April Fool
Avengers Endgame: AR Rahman's Marvel Anthem is out, Twitteratis call it terrible or April Fool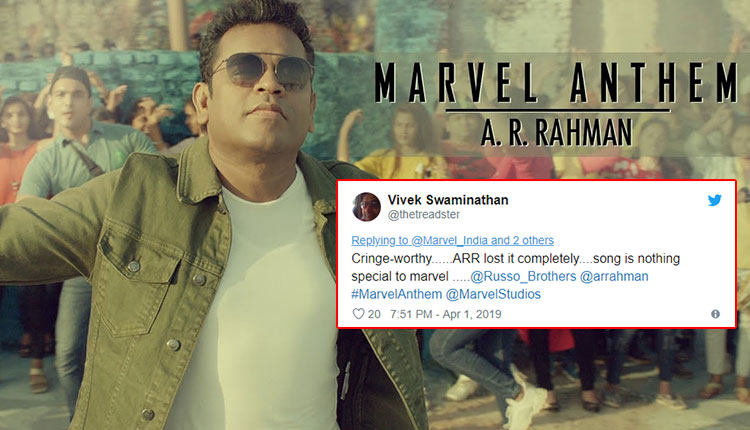 One of the much-awaited movies of 2019, Avengers: Endgame is just a few weeks away from its official release. The makers of Avengers: Endgame has finally released Marvel's Anthem in Hindi for its Indian fan, which has been composed by Indian music maestro A. R Rahman.
The Marvel's anthem was launched on Monday by Avengers: Endgame co-director Joe Russo, who is currently in India promoting Marvel's second movie in 2019 after Captain Marvel. This Endgame is said to be the biggest superhero film as of now.
The tagline of the song is "Roke Na Rukenge Ab Toh Yaara" – has been fused well with the pledge of the surviving superheroes to avenge their fallen comrades.
The video features Oscar Award winner AR Rahman. In the colourful and vibrant anthem, AR Rahman can be seen setting the stage on fire as he sings to a crowd of Marvel fans. The clip is coupled with videos from its earlier films in Marvel Cinematic Universe (MCU) and Avengers: Endgame trailer, the anthem has raised the bar for the film.
Twitter Ads info and privacy during the media interactions in Mumbai, Joe Russo said, "I have goosebumps every time I watch this anthem. The song is in Hindi but goes so well with the emotions in the film."

Watch Marvel Anthem In Hindi Below:
Earlier talking about his association with the studios Rahman had said, "Being surrounded by Marvel fans in my own family, there was too much pressure to come with something really satisfying and apt for 'Avengers: Endgame'. I hope Marvel aficionados and music lovers enjoy the track."
Notably, Avengers: Endgame is the 22nd film in the Marvel Cinematic Universe that will bring the curtains down on its first timeline. It begins from the aftermath of Thanos' snap that left half the universe in the dust.
The Marvel Anthem did not live up to the expectation of the Indian audience. Twitterati's seem to be unhappy with A.R Rahman's this song as people are calling it cringe-worthy.
Check out Twitter's Reaction on AR Rahman's Marvel Anthem
Is It April Foo Joe?
Haha.. nice April Fool joke.. you got us 😂😂 Now release the actual anthem..

— Vinit Tibrewal (@vinittibrewal) April 1, 2019
Fans Want it in Tamil
Still Tamil Trailer not Released ?!…Now Anthem not released in Tamil ?! Why? Please Make It Soon!!!

— GURÚ (@N2G5R1N1) April 1, 2019
Release in tamil

— Thiru😎 (@thiruvig) April 1, 2019
Terrible
This is terrible. Rahman has become very boring and predictable. This anthem is unbearable.
Actually this music is so bad that it pissed me off …

— Chowkidar AB 🇮🇳 (@seapish) April 1, 2019
SICK PRODUCTION..
GATIYA RAP LYRICS SCREENPLAY..
BAKWAS
2 STAR OUT OF 5

— VikaS 🇮🇳 (@vikasbharat22) April 1, 2019
Cringe-worthy……ARR lost it completely….song is nothing special to marvel …..@Russo_Brothers @arrahman #MarvelAnthem @MarvelStudios

— Vivek Swaminathan (@thetreadster) April 1, 2019
Avengers: Endgame will hit the theatres in India on April 26.
Also Read: AR Rahman: Contemplated Suicide Till 25 Years-Of-Age; Hated His Original Name