ARMY's Trend 'All Men Do Is Lie' Because of BTS's RM- Know why
BTS fans- ARMY's took to Twitter gushing over RM's pink hair color. He had earlier lied about not coloring his hair pink again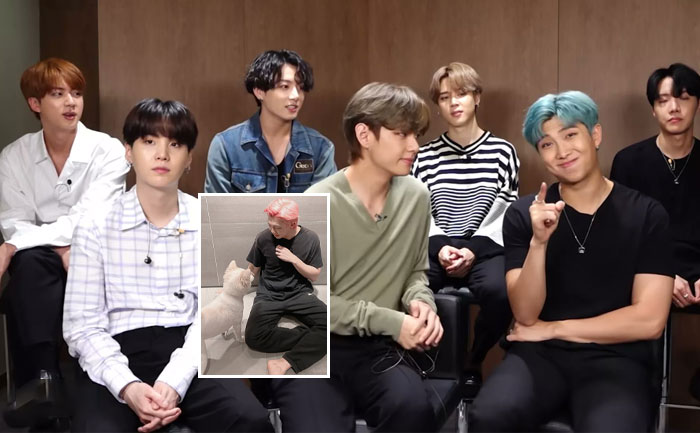 South Korean boyband, BTS is all set to release their highly anticipated Butter song in May. Big Hit Music even dropped a teaser poster and seven concept video clips featuring all the members. Amidst the buzz about the upcoming song, ARMY's are trending 'All Men Do Is Lie' on Twitter because of RM. Well, what did Joonie do now? It's his pink hair color. The leader of BTS had earlier stated that he won't color his hair pink because he doesn't like it. And now he has turned it into a light pink shade.
We wonder if V had already hinted to ARMY's about Joonie being a liar in their throwback video. A snippet from one of the BTS's interviews is going viral today, wherein RM says that he won't color his hair pink and he also reveals the reason. The way Tae-Tae stared at Jonnie appears quite suspicious. Fans speculate that V might have already known about RM being lying then about not coloring his hair into pink. Big Hit Music has dropped lovely pictures of all the members.
Check out the throwback video:
In conclusion : ALL MEN DO IS LIE #RM #NAMJOON #Bts #방탄소년단 #BTSARMY @BTS_twt pic.twitter.com/kjA6QmP1dR

— BTS_UPDATES⁷ 🧈💛 (@BTSupdate_7) May 6, 2021
Now check out how ARMY's are reacting to his new hairdo:
#NAMJOON: all men do is lie pic.twitter.com/zsrPwpAzmW

— rebs⁷ 🧈 | check 📌 for lolz (@btsluvr_0613) May 6, 2021
"I don't do pink cause you know, Weekly Idol. Nah, I won't do it again."

ALL MEN DO IS LIE. pic.twitter.com/nbJH8z4FKG

— Phoebe⁷ (@mochidennie) May 6, 2021
Didn't Namjoon said he won't do Pink Hair now we got PINK JOON BACK! ALL MEN DO IS LIE pic.twitter.com/kwN0cVErmk

— Key₁₃⁷ (@minizfilters) May 6, 2021
Namjoon in 2020: nope I'm never going pink hair again!

Namjoon in 2021:….

Army: 🤡🤡

In conclusion, all men do is lie 🤷🏼‍♀️ pic.twitter.com/aqPBmdZJJn

— ᴮᴱHolly ⁷🧈 (@holli_twt) May 6, 2021
didnt Joon said he wont dye his hair pink💀and now seeing this- 'like. all. men. do. is. lie' 💜 pic.twitter.com/5D2ts666YI

— v🧈⁷ (@kthxluvr) May 6, 2021
It's
Purple Jungkook
Pink Namjoon
Blonde Hobi
Brown Mullet Jin
Brown perm Taehyung
Blonde Jimin
Black Suga
All got me excited…..#BTS_Butter pic.twitter.com/VWdnc5O2JV

— sree_melting for BTS 💛 (@Lucky_Sree25) May 6, 2021
Are you excited for the release of the Butter song? Do let us know.
For more such updates, stay hooked on to The Live Mirror.
Also Read: BigHit Music Drop J-Hope, V And Jimin's Concept Video Clips For Butter Song