Arnold Schwarzenegger and other A-listers evacuate homes to escape Los Angeles fire
In a tweet, actor and former governor Arnold Schwarzenegger said he evacuated his home at 3:30am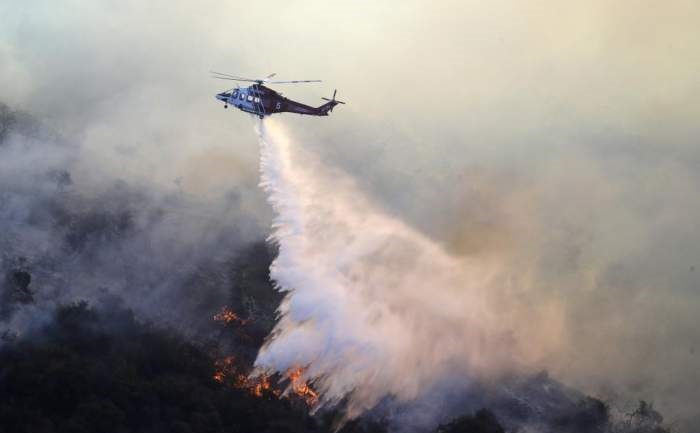 LA fire has forced Arnold Schwarzenegger and other A-listers to flee their homes and evacuate.
With the wildfires raging through California, almost 200,000 have evacuated their homes. The wind-spurred flames forced several celebrities, including Arnold Schwarzenegger, to flee their houses in the middle of the night. At least five multimillion-dollar LA homes have been destroyed in the wealthiest neighbourhoods owing to the LA fire.
Actor Arnold Schwarzenegger was also amongst those evicted overnight.
"If you are in an evacuation zone, don't screw around. Get out," Schwarzenegger wrote on Twitter.
We evacuated safely at 3:30 this morning. If you are in an evacuation zone, don't screw around. Get out. Right now I am grateful for the best firefighters in the world, the true action heroes who charge into the danger to protect their fellow Californians. #GettyFire

— Arnold (@Schwarzenegger) October 28, 2019
Basketball superstar LeBron James said he was driving around looking for a place to stay after having to evacuate with his wife and three children.
Actor Clark Gregg (Agents of SHIELD) and Sons of Anarchy creator Kurt Sutter were amongst other forced to evacuate their homes as a result of the devastating fires.
Safe in a hotel room with my family and dogs. Awakened and evacuated by the amazing alert system from #lafd #Grateful #GettyFire

— Clark Gregg (@clarkgregg) October 28, 2019
?? Evacuated… Apparently, everything around me is burning the fuck down. Rough week. #gettyfire #itsahotworld https://t.co/tNGKBNnXiM

— kurt sutter (@sutterink) October 28, 2019
Senator Kamala Harris, Walt Disney CEO Bob Iger and Dr Dre were also under the evacuation zone.
The red-carpet premiere for Arnold Schwarzenegger's Terminator: Dark Fate was cancelled due to the fires in the area. Paramount Pictures declared that the food meant for the premiere party will now be donated to the local American Red Cross shelters.
California governor declared a statewide emergency in light of wind-driven fires spreading out of control and forcing thousands to evacuate and flee.
The Getty Fire broke out in California as the state was already dealing with a number of wildfires that spread throughout the state last week. These fires have caused massive evacuations and power cuts to ensure safety.
California's largest utility Pacific Gas & Electric Co has come under investigation after it appeared that one its transmission lines may have incited the Kincade Fire. PG&E has been blamed for several other fires in recent years.
ALSO READ: The Terminator: Dark Fate Trailer Brings Back Arnold Schwarzenegger & Linda Hamilton With A Bang