Assam NRC issue: Opposition blames BJP for double game, govt points finger at appeasement politics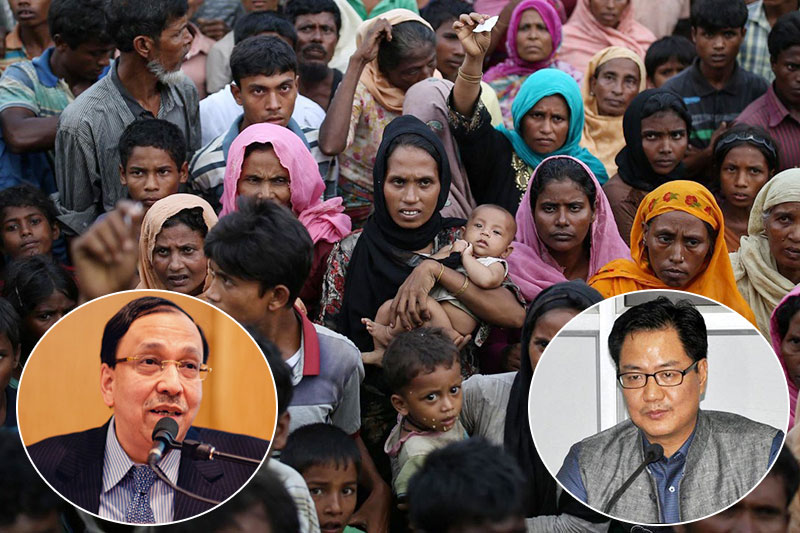 The National Register of Citizens (NRC) issue in Assam has gained momentum in the political arena and opposition parties are attacking the Union government of showing double standards. With Rajya Sabha being adjourned for four times on Monday and TMC giving an adjournment motion notice in Lok Sabha over NRC draft, things are likely to become worse from here.
TMC parliamentarian Sugata Bose in Lok Sabha had accused BJP-led Union government of playing a double game with the future of 40,000 Rohingyas, who took shelter in Assam. Raking up the humanitarian issue, Bose questioned the Union Home Ministry on Tuesday. "External Affairs Ministry is conducting 'operation insaaniyat' for Rohingyas in Bangladesh. There are 40,000 Rohingyas in India, would we show insaaniyat for only those who are in Bangladesh?" he questioned.
Replying back, MoS for Home Affairs Kiren Rijiju stated that the Union government is looking into the issue very seriously and as the matter relates to immigrant migrants, appropriate steps will be taken. Rijiju though mentioned that the Rohingyas were never refugees in India, they are illegal immigrants.
He replied to Bose's comments by saying, "This is an unfortunate statement by him (TMC's Sugata Bose). India is probably only country which has adopted such a soft approach to refugees. We also told Myanmar that we are ready to assist them in providing facilities to Rohingyas when they return."
Earlier, Union Minister Rajnath Singh too had called the Rohingyas illegal immigrants and said that government is looking at the aspects of deporting them. "Border Security Force and Assam Rifles are deployed to stop further infiltration of Rohingyas. Have issued advisory to states to monitor those who have already come and keep them at one place and not let them spread. States also have right to deport them," he said.
On the other hand, Trinamool Congress had planned to send three leaders to Assam to take stock of the situation. Confirming the details, MP Derek O'Brian tweeted, "On August 2 and 3, a delegation comprising six MPs from Trinamool (Sukhendu Sekhar Ray, Kakoli Ghosh Dastidar, Ratna De Nag, Nadimul Haque, Arpita Ghosh and Mamata Thakur) and State Minister Firhad Hakim and Mahua Moitra, MLA, will be visiting Assam for NRC."
Though the issue of NRC draft is in controversy with 40 lakh people's identity at stake, Union Minister Rajnath Singh had said that the government has made appropriate arrangements to ensure that no genuine person is left out. He had said, "I want to emphatically say that this is only a draft and not the Final NRC. Everyone will have the opportunity to file Claims/ Objections as per provision in the law. Only after the disposal of claims and objections, the Final NRC will be published."
As the border between India, Myanmar and Bangladesh remain to be porous and people migrating into the Indian side, another BJP leader from West Bengal Babul Supriyo had alleged Mamata Banerjee of appeasement politics over the issue. Similar views were expressed by other BJP leaders in the parliament on Monday. As a result, a ruckus was created by opposition and Rajya Sabha was adjourned for four times on the first working day of the week.
However, a senior Home Ministry official had said that people have been given a month's time to claim their nationality status, adding that the deadline may be extended, reports TOI. "What is published is only a draft and will undergo revision and objections are filed and processed…A person can be declared 'foreigner' only by the Foreigners' Tribunal. Until then, nobody will be sent to a detention centre or face any coercive action," he said.
On Tuesday, just before the Parliament session began, TMC, Aam Aadmi Party and Samajwadi Party MPs staged protest in front of the Gandhi statue in Parliament. As the Session proceeded in both the houses, leaders like Ghulam Nabi Azad and Mallikarjun Kharge raked up the issue to add to the ruling party's embarrassment. Even the BJP called for a Parliamentary Party Meeting before the Session.