Assam Oil Well Fire: 2 Firefighters Dead, 1,600 villagers Evacuated
3 dead, 50 houses gutted as fire at Assam's Baghjan oil well spreads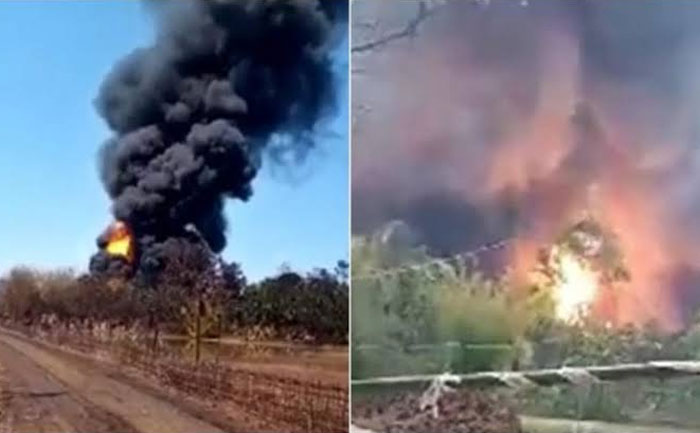 A massive fire engulfed a natural-gas producing well of Oil India Limited (OIL) in upper Assam's Tinsukia district. The oil well has been leaking gas for the last 14 days and it caught fire on Tuesday. The fire was so intense that it could be seen from as far as 10 km away. At least fire-fighters have died and over 50 houses have been gutted in the massive fire. Over 1600 families in the vicinity were evacuated to relief camps.
Oil India spokesperson Tridiv Hazarika told news agency Press Trust of India, "Two firefighters of Oil India Ltd who had been missing were found dead at a wetland near the site of a massive oil well fire in Assam. Their bodies were recovered from a wetland near the site. Prima facie it looks that they jumped in the water and got drowned as there is no mark of burn injury. The exact cause will be ascertained only after a post mortem."
#BaghjanGasLeak | Two "missing" firefighters of Oil India Ltd who had gone missing after the well caught fire on Tuesday in #Assam were found dead near the site of the Oil well fire: Tridiv Hazarika, Oil India Spokesperson#assamfire pic.twitter.com/PrBkMMfnBA

— Vanshika Jain (@vanshikajain99) June 10, 2020
National Disaster Response Force (NDRF) and SDRF teams are present at the spot and trying to douse the fire. Officials said the fire has been contained in a 1.5-km radius around the site of the incident. But it is still burning as the oil well continues to feed gas.
Oil India Limited has also announced financial relief of Rs 30,000 to each to the affected families.
Also Read: One killed in police firing during first phase of panchayat polls in Assam