Australia Heatwave: Thirsty koala approaches cyclists for a drink of water
Viral Video: Thirsty Koala stops cyclist to ask for water amid heatwave in Australia...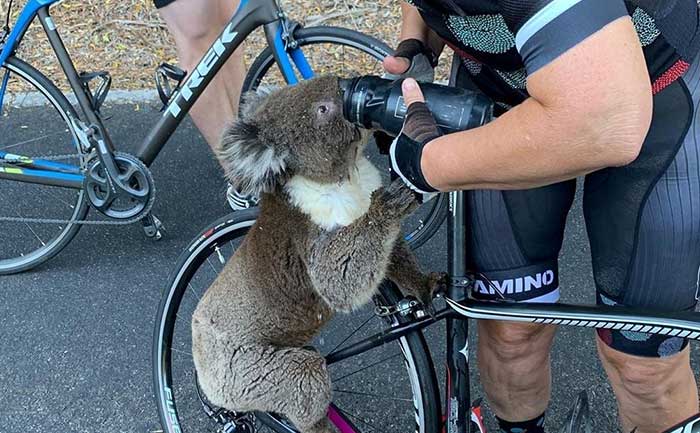 Australia is hit by bushfires and a scorching heatwave that is making life difficult for people and animals too. The worst-hit are the adorable cuddly Koalas. The terrible bushfires have snatched a huge amount of koala habitat for the past few weeks. More than 2,000 have died from heat and dehydration. The temperature around Adelaide hit 42 degrees Celsius on Friday afternoon.
A recent video of a thirsty Koala approaching a cyclist for water is breaking the internet. A video posted on Instagram by cyclist Anna Heusler shows the desperate marsupial climbing onto the frame of a bicycle to get a better sip.
Watch the video here:
According to abc.net, Anna Heusler and a group of cyclists were riding towards Adelaide on December 27 when they spotted the koala sitting in the middle of the road. Cyclist Anna Heusler was with a group of friends riding down Norton Summit Road in the Adelaide Hills when they saw the koala sitting in the middle of the road.
Sharing the video on Instagram Anna Heusler wrote, "This koala walked right up to me as I was descending and climbed up onto my bike while I gave him water. There were about a dozen cyclists around me watching this (all men) and several commented that it was genuinely the best thing they've witnessed. What a truly wonderful experience."
The fire in the Adelaide Hills has reportedly burned 25,000 hectares of land, leaving koalas scavenging for food, home, and water. Adelaide Koala Rescue's Jane Brister is also reportedly caring for 46 koalas that have had their homes destroyed.
Also Read: Australia Bushfires: Danger for Sydney as new blazes break out