Bangladesh election 2018: Sheikh Hasina wins new term as Prime Minister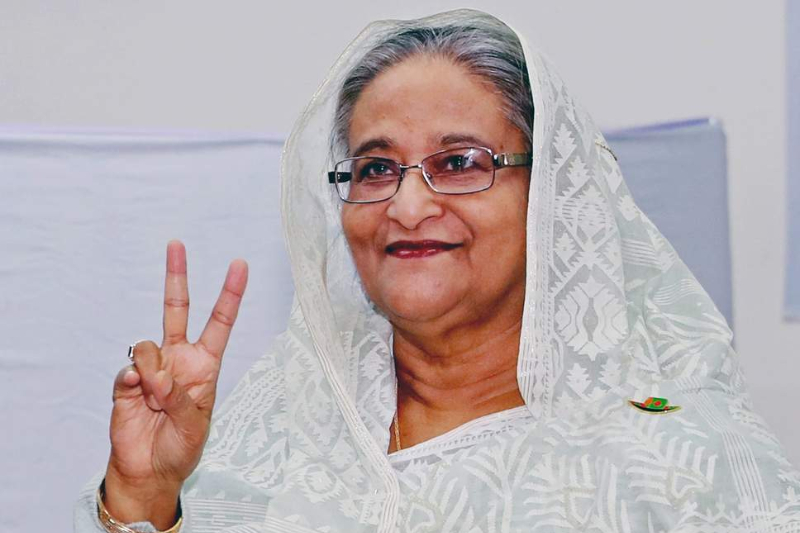 Prime Minister Sheikh Hasina registered a landslide victory for a third consecutive term in Bangladesh's general election. Sheikh Hasina's ruling party and its allies have won 288 of the 300 parliamentary seats, surpassing its previous election wins.
Bangladesh's private DBC TV aired results of 299 seats out of 300. The ruling Awami League-led grand alliance bagged 266 seats and its ally Jatiya Party secured 22 while the opposition National Unity Front (UNF) with BNP being its key partner got only seven seats.
On the other hand, Independent candidates won in two seats. The election was postponed in one seat due to the natural death of a candidate.
The Election Commission of Bangladesh confirmed the complete result of the constituency in southwestern Gopalganj from where Hasina won bagging 2,29,539 votes, while her BNP opponent got only 123 votes.
Bangladesh's opposition NUF alliance, with BNP as its key partner, rejected the outcome of the general election and demanded fresh polls under a neutral caretaker government. The National Unity Front (NUF) is a coalition of parties, including BNP, Gono Forum, Jatiya Samajtantrik Dal-JSD, Nagorik Oikya and Krishak Sramik Janata League.
"We reject the results and demand a new election under a neutral government," NUF convenor and veteran lawyer Kamal Hossain, who heads the Gono Forum party, told reporters after early results suggested a win for AL-led Grand Alliance.
"We ask that you cancel this election right away," Hossain urged the Election Commission, claiming, "we have reports that fraudulence took place in almost all centres".
NP secretary general Mirza Fakhrul Islam Alamgir, who steered the party in Zia's absence and won from his northeastern constituency, described the polls as a "cruel farce".
Also Read: Bangladesh Ex-PM Khaleda Zia gets another seven-year in prison for corruption