Bigg Boss 14, October 6, written update: Abhinav wins nomination task, Gauahar-Sidharth lock horns
From the first nomination task to Abhinav Shukla winning immunity from the nominations task- here's everything you should know about tonight's episode.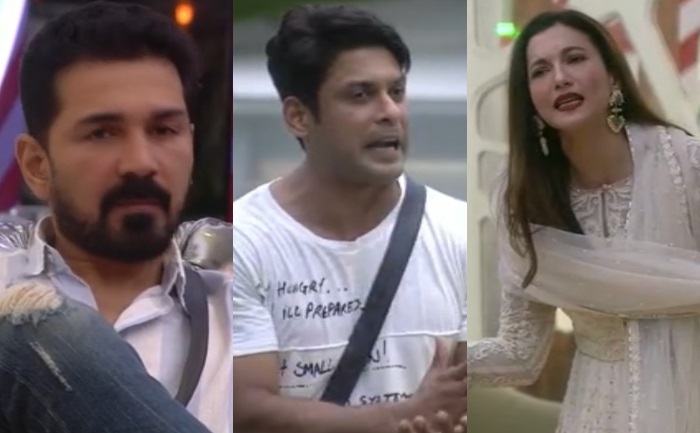 The third day of Bigg Boss 14 starts with Sara Gurpal narrating a shayari for Jasmin Bhasin, while Abhinav Shukla does it for Nikki Tamboli. Later, Eijaz Khan is unhappy with his kitchen duties and tells the same to senior Gauhar that it is becoming difficult for him to do the dishes twice a day. Gauahar then communicates with the contestants and tells them to wash their own plates and glasses after their done with their meal.
Gauahar talks to Eijaz again about the bhartan duty as nobody don't know to do it, later, Shezad says that he isn't voluntarily washing for Eijaz. Gauahar tells everyone that their duties remain the same until next week. Pavitra Punia tells Rahul Vaidya that he has the easiest duty. To which, Rahul agrees that he is ready to switch duties if required.
Later, Sidharth explains Gauahar how she is making it easy for the other contestants and that she should let them solve their own issues within themselves. Sidharth then tells her that she needs to challenge people but Gauahar states that there is a difference in their opinions.
After some time, Bigg Boss announces the first nomination task, Jewel Thief, in which, the freshers have a chance to save themselves from the nominations this week.  The one with the most jewelry pieces will win the immunity and get saved from being nominated.
Hina and Gauahar play queens in the task, whereas the men have to impress the queens and get jewelry from them in return. Sidharth is given the role of the 'Choron ka Sardar'. Gauahar and Hina's teams decide to do the task with all honesty. However, Shukla decided to play by his own rules and instructs the girls – Nikki Tamboli, Rubina Dilaik, Pavitra Punia, and Sara Gurpal to go all-out and steal the jewels.
Soon after, the task begins and the female contestants rush to get their hands on the jewel, however, Gauhar tells everyone to play the task according to the rule book. Gauahar also says that she doesn't appreciate Sidharth's 'strategy' and the two get into a heated argument, Sidharth tells Gauahar that strategy is 'tabaahi'
Later, even Eijaz Khan joined the heated argument and accused Sidharth of ruining the game and says that he ended the game even before it started and for not giving a chance to perform the task. Yet again, Gauahar shows Sidharth the rule book and they get into an argument again.
Eijaz plans a strategy with the boys and decided to save themselves. He tells the boys to give their jewels to Abhinav who has the maximum jewelry with him, however, Rahul denies and said that he will not do so. Later, Nishant and Abhinav talk about Vaidya and say that he is showing his true colors and also appreciate him for his honesty of openly mentioning that he is selfish.
The Jewel Thief task ends and Bigg Boss tells them to count the jewelry pieces that they have with them. Abhinav wins the task as he has the most amount of jewels and wins immunity from this week's nominations. Eijaz cuts his hand while washing the dishes with Jaan, later, he tells the senior Gauahar that someone put broken glass in the sink.
Jasmin then cries over washing clothes and says that she did not know that it would be so difficult. Rubina, Abhinav, and Sara laughing over her antics. The episode ends on a lighter note, and, Shukla and Nikki seem to get a little flirty and she even calls him husband material.
Watch Bigg Boss 14 Mon-Fri, 10:30 PM & Sat-Sun, 9 PM only on Colors TV. Till then, stay hooked to The Live Mirror for more updates.
ALSO READ: 'Bigg Boss 14' Written Update: Rubina Continues To Stay Outside, Sara And Nikki Get Into A Fight