Bigg Boss 14, Weekend Ka Vaar, Written Update: Salman supports Rahul; slams Rubina over violence remarks
Here's all that happened in tonight's episode of Weekend Ka Vaar.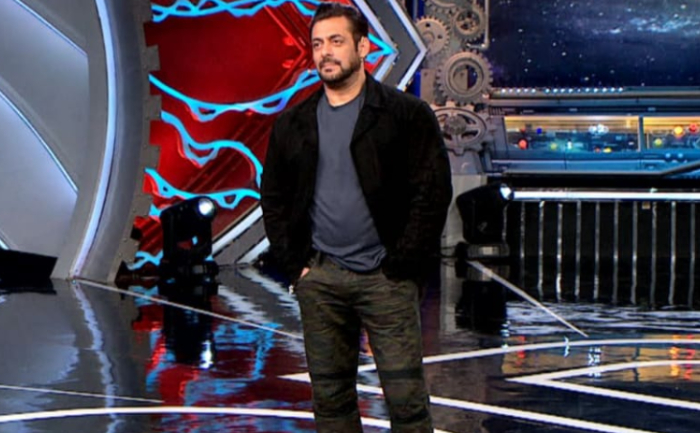 Salman Khan enters on the song, Jag Ghoomeya. Bigg Boss announces Kathputli Ka Khel and the contestants have to decide which two contestants are Rubina Dilaik's puppet. Nikki names Abhinav, Pavitra named Nishant, and Abhinav for the same. Eijaz says Nishant and Abhinav, Naina says she believes there is no puppet in the house. Rubina says Jaan and Rahul her true puppet in the house. Rahul named Abhinav and Jasmin. Jaan names Abhinav and Nishant. Shardul calls Rahul and Jaan the puppets.
Salman meets greets the contestants. He also quizzed about the kathputli task and ask them to come to a decision. Jaan gets the maximum votes, Rahul and Abhinav tie. The host names Jasmin and Nishant as Rubina's puppets. Rahul explains his views on why he named Jasmin as Dilaik's puppet was then seen explaining his point on naming Jasmin as Rubina's puppet, the duo argues.
.@jasminbhasin says that woh nahi hain @RubiDilaik ke haath ki kathputli. What are your thoughts on this?#BB14 #BiggBoss2020 #BiggBoss14 #WeekendKaVaar @BeingSalmanKhan pic.twitter.com/3j571BrhDB

— COLORS (@ColorsTV) October 31, 2020
Salman introduces the Khalnayak chair and asked Rahul to sit on the chair. He brings out the nepotism topic, he also tells the singer that this is not the place to bring out the nepotism topic. Salman questions Jaan if his father Kumar Sanu ever recommended him, to which, he says no.
.@BeingSalmanKhan targets @rahulvaidya23 for his conversation about Nepotism in #BB14 house. Are you watching?#BiggBoss2020 #BiggBoss14 #WeekendKaVaar pic.twitter.com/p2NkxLT5Lo

— COLORS (@ColorsTV) October 31, 2020
Shardul tells that everyone in the house on every topic there's a conspiracy. Later, Salman brings out the 'dhamki' given to Jasmin by Rahul. He defends Rahul and tells Jasmin that she was creating a fuss for nothing. Jasmin defends herself, next, Salman tells the contestants to listen to audio which features Jasmin and Rahul's conversation during the captaincy task, in the audio, it was quite clear that Rahul was requesting her to leave the bag. The housemates share their views over the same. Salman questions Abhinav for supporting Jasmin in this matter. Salman also says that Jasmin is coming out wrong. Salman also stated how Rubina supported Jasmin for spilling water on Rahul. Rubina explains her side, Salman tells her that she is not understanding the main point and is defending herself pointlessly. The host also questions the housemates if they thought Rahul had given dhamki to Jasmin her, but they denied.  Jasmin suggests her to not stretch a matter.
Gharwaalon ne hinsa ki baat par liya @RubiDilaik ka naam. What are your thoughts on this?#BB14 #BiggBoss2020 #BiggBoss14 #WeekendKaVaar @BeingSalmanKhan pic.twitter.com/ud6zC9kB3F

— COLORS (@ColorsTV) October 31, 2020
Salman questions Rahul about the buzzer task, Abhinav says that Rahul has criminal intent. He also addresses the 'hinsa'  inside the house. Pavitra says that the contestants follow the rules given by Bigg Boss and don't do violence, she says that the task spirit is considered as violence. The contestants say that Rubina gets out the topic a lot. Rubina defends herself and gets into an argument with Punia, the housemates believe that Dilaik uses the 'hinsa' card as per her convenience. Rubina says that if the contestants have an issue with her, they should vote her out. Salman tells Rubina that, "Apna passion is passion, doosre ka passion is violence?" 
The MPL caller of the week questions Rubina why she said that captains are made as per TRP and footage thing and Rubina defends herself. The caller says he isn't happy with her reply, she says that she will not disappoint the audience and try to be clear.
Salman announces the elimination and Kavita bids them goodbye, however, he says he was joking. Meanwhile, Nikki makes a vote appeal for Rubina. The eliminated contestants ask the audience to vote for them. Salman bids goodbye.
(Episode ends)
ALSO READ: Bigg Boss 14, Oct 30, Written Update: Kavita, Nishant, Jasmin, Rubina Get Nominated