'Bigg Boss 14' Weekend Ka Vaar Written Update: Nikki Tamboli becomes first confirmed contestant
From Eijaz Khan talking about a 'kaand' from his past to Nikki Tamboli becoming the first confirmed contestant-here's all that happened.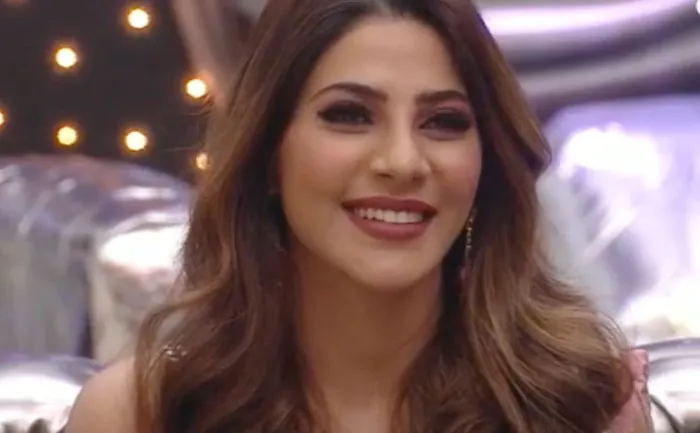 'Bigg Boss 14' Weekend Ka Vaar Written Update: It's the first Weekend Ka Vaar and Salman Khan is back and tells that in tonight's episode among Pavitra Punia and Nikki Tamboli one of them will be the first confirmed contestant and will be joining the toofani seniors- Sidharth Shukla, Gauahar Khan and Hina Khan in the house.
The bulldozer task continues and Rubina throws water on Abhinav and Shehzad tells her that it is not allowed and to disqualify Abhinav from the task. Gauahar then disqualifies him, Hina also tells Abhinav that he is disqualified.  Abhinav asks the seniors to take the final call and they say that he is disqualified. Rubina takes him away and Abhinav jumps into the pool. Rubina gets furious and calls for a doctor and the seniors enter and ask her to relax but she continues to scream and calls the contestants inhuman. Later, Abhinav calms her down. Whereas, Sara and Pavitra continue to remain on she bulldozer, however, Sara gives up and jumps into the pull and says that she is can't open her eyes, Jasmin cries and offers her milk to clean her eyes and Hina consoles them.
Shehzad takes Sara's place and Rahul starts torturing him and in some time he gives up too and Rahul sits in the same position, Nikki tortures Rahul while Eijaz tortures Pavitra, Rahul leaves and Nikki sits again. Sidharth and Hina discuss how well Nikki is doing in the task. Sara destroys Nikki's makeup. The buzzer rings and Nikki and Pavitra win the immunity task. Everyone claps and Salman Khan who watched them from the theatre room also applaud for the girls.
Salman Khan enters the stage on 'Allah Duhai Hai' and begins his first Weekend Ka Vaar and says that in the last week, we witnessed drama, melodrama, and destruction too. He congratulates Nikki and Pavitra for winning the task and says that one of them becomes a confirmed contestant today and the decision will be taken by the seniors. Salman says there were live viewers inside the Bigg Boss 14 house and takes a massive jibe at Abhinav Shukla, Sara Gurpal, and Nishant Singh Malkani, Salman says that these 4 contestants are just watching the game as spectators and not playing it. Salman says there a big fan of Bigg Boss and he scolds Jaan and points out at his game.
Salman allows Nikki to two-minute unlimited access inside the BB Mall and to pick up whatever she wishes to, but, she can't pick her own items, she runs in a saree and picks up everything she can from there. Salman asks her why did she take the boys' items? Nikki says I will use those as well and he tells Nikki that her boyfriend will be broke if he dates her. Salman tells Abhinav to count the items Nikki brought from the mall. Salman tells Rubina that they give them simple instructions and then he takes a dig at Abhinav and says that last season's Shukla made everyone wake up and this season's Shukla is making everyone sleep.
Salman Khan then praises Rubina for standing up for herself and also says that Abhinav sometimes helps her and sometimes guides her in a different direction. and tells Rubina that she can take a stand for herself and Salman tells Abhinav to let her fight her own battles. Salman asks Sidharth Shukla if Rubina missed her chance when she was outside? To which, he says yes and says that she could have grabbed the attention by being alone outside, whereas, all she did was crib. Salman then questions Pavitra on her equation with other fresher contestants, Pavitra says she does not have a strong bond with anyone, however, she is friends with Eijaz but she would like to bond with Nikki and Jasmin. Sidharth says the contestants have pre-conceived notions and Gauahar says that nobody in the house is serious about immunity. Salman says the show is becoming mechanical.
Salman tells Eijaz that he is stopping yourself and plays a clip in which Sid and Eijaz can be talking about a 'kaand' from Eijaz's past. He shares about a bad experience he had with a woman and the reason he controls himself before talking, Sid then tells him that the Bigg Boss house is a safe place. Salman talks to Eijaz about this, to which, he says that he is awkward because of his past. Salman tells Eijaz that he shouldn't look like a doormat. Eijaz says that he tried to be nice but people take him for granted. He takes a dig at Jasmin and says that just because he gave up his items in the past, Jasmin got the dress she is wearing today, to which, Jasmin feels bad about it. Salman also schools her and says that she should fight for herself and she gets emotional on Eijaz's matter.
It's finally time for the toofani seniors to choose between Pavitra and Nikki and after a discussion they choose Nikki and she becomes the first confirmed contestant in the house. Salman congratulates her and says that she will now become part of the senior team.
(Episode ends)
ALSO READ: Bigg Boss 14, Oct 9, Written Update: Rubina Infuriates Seniors, Abhinav & Nikki Compete In Immunity Task