When Bebe Rexha asked BTS' V for a selfie at the 2018 Billboard Music Awards
Throwback to 2018's Billboard Music Awards, when Bebe Rexha BTS' V for a selfie.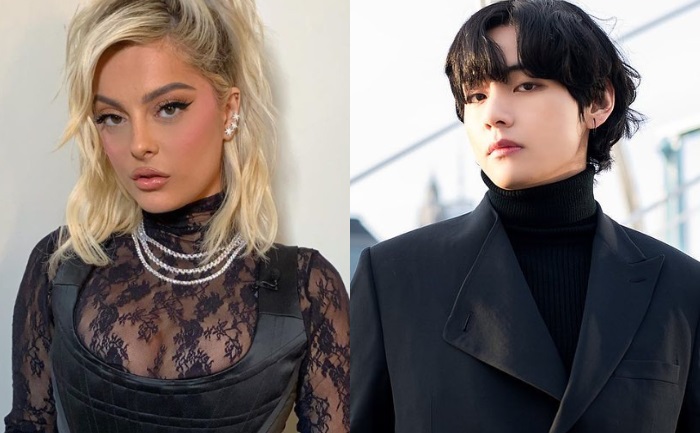 Back then on May 20, 2018, BTS made its much-anticipated appearance at the Billboard Music Awards 2018 (BBMAs). Notably, BTS was the first K-pop act to ever perform at the BBMAs. It was also the television debut performance of their new single "Fake Love." The K-Pop band also won the 'Top Social Artist Award.'
The seven members boy band met up with several international stars who were also in attendance at the music award but what grabbed everyone's attention was when the "Me, Myself & I" singer Bebe Rexha asked BTS' Kim Tae-Hyung aka V for a selfie and put it up on her Instagram story. The boy-band were also seated together with the American singer at the BBMAs.
Watch the video:
As per the above video, it looks like Bebe Rexha was looking for an opportunity to click a selfie with BTS member V. Finally, she goes close to him and brought her phone right up to his face.
Not just that, the two were also seen jamming to Kelly Clarkson's performance. He and Bebe were seen excitedly nodding their heads along to the beats as they sang the lyrics.
Here's the video:
taehyung jamming with bebe rexha during kelly clarkson's performance was the cutest interaction I've seen this lil boy ?@BTS_twt #PremiosMTVMiaw #MTVBRKPOPBTS #MTVLAKPOPBTS pic.twitter.com/JIo3AZc4ee

— ashley (@cooky1997_jk) May 22, 2018
Meanwhile, BTS recently announced that they will reschedule their upcoming 'Map Of The Soul' tour due to coronavirus outbreak. Post cancellation of their Seoul concert dates, they have postponed their 27-date North American leg that was supposed to begin from April 11.
As per the reports, BTS had scheduled four concerts between April 11 and 19 at the capital's Olympic Stadium to promote their new album, "Map of the Soul: 7". Over 200,000 fans were likely to attend their gigs.
BTS released their album titled 'Map Of The Soul: 7' on February 21, 2020.