Indian cricket fans trolled Ben Duckett mercilessly for calling Virat Kohli 'a joke'
Ben Duckett trolled for calling Virat Kohli 'a joke'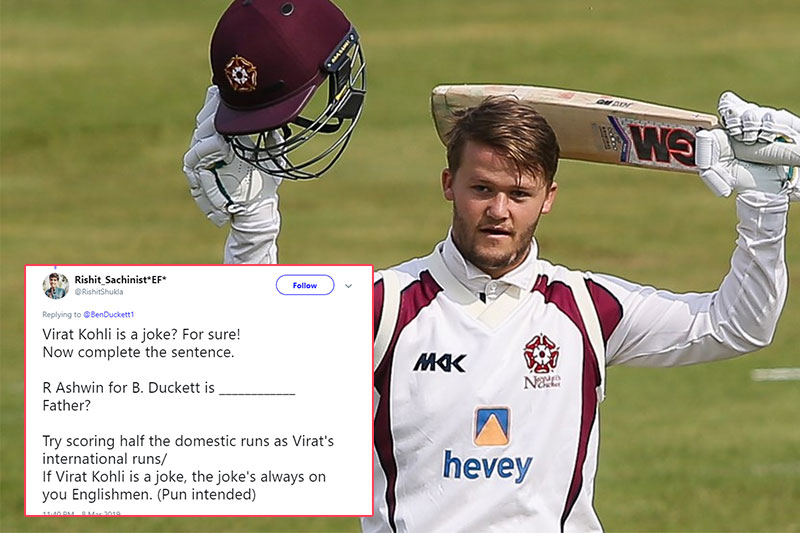 Virat Kohli, captain of the Indian cricket team, is also known as the 'run machine'. He is widely considered to be one of the four great batsmen of his era, the others being Australia's Steven Smith, England's Joe Root and New Zealand's Kane Williamson.
Recently, in the third ODI against Australia in Ranchi, Virat Kohli made his 41st century and shattered many records. The sports fraternity and also Indian citizens took to social media to praise Indian cricket captain. Virat Kohli scored 123 runs against Australia in the third ODI match. In the meantime, Twitteratis slammed England batsman Ben Duckett for calling Virat Kohli 'a joke'.
It began when a cricket-based Twitter account Cricket Shouts asked its followers to describe Virat Kohli using a word. Take a look at the tweet:
Complete the sentence.

Virat Kohli is _______________

— Cricket Shouts (@crickshouts) March 8, 2019
To this, England batsman Ben Duckett, who was dropped from the team by the England selectors way back in 2016, replied saying 'a Joke'. However, this did not go well with Twitteratis and they slammed Ben Duckett.
A joke?………………………… https://t.co/APryZGy3lf

— Ben Duckett (@BenDuckett1) March 8, 2019
Troller himself was trolled mercilessly. Here are some of the best trolls.
FOR Virat Kohli CENTURY is a JOKE.

I completed it for you ?

— Anjani Singh ♜ (@ANJANI_KSINGH) March 10, 2019
No wonder why England cricket didn't let you after 2 tests against India buddy…. He has more international hundreds than your runs against India bro. So take a chill pill… N learn from him ?

— bholu kaka ? (@AggarwalAkask) March 9, 2019
Do you even play cricket anymore Ben?????

— Daniel Clark (@DanClincs) March 9, 2019
Hey Ben , not talking about your career here

— Ishan Mishra?? (@ishan31396) March 9, 2019
I think u r saying this just standing before the mirror
Right??

— Waz KKR (@washersrkian1) March 9, 2019
This is joke ?✋. pic.twitter.com/vpWgYDn14F

— SAHIL CHAUHAN (@thesahilchauhan) March 9, 2019
Let me fix this for you, Virat Kohli is a person who thinks all England bowlers is a joke… Also Virat Kohli is a person who thinks your name is Dick – ett not Duckett!

— RAHUL TYAGI??? (@rahulastic) March 9, 2019
Ben. That guys is not asking about you!

— Taher (@MaesterTaher) March 8, 2019
— Shark ? (@imShariqueRizvi) March 8, 2019
I am from pakistan but to be honest virat Kohli is one of the greatest batsman I have ever seen,I mean look at his consistency,his batting records,unbelievable player on the field and off the field,Indeed he is king Kohli.Lots of respect for him!!! Cheers

— Asad Khan (@AsadKha90691659) March 9, 2019
Virat Kohli is a joke? For sure!
Now complete the sentence.

R Ashwin for B. Duckett is ____________
Father?

Try scoring half the domestic runs as Virat's international runs/
If Virat Kohli is a joke, the joke's always on you Englishmen. (Pun intended)

— Rishit_Sachinist*EF* (@RishitShukla) March 9, 2019
Have a look at the statistics of Virat Kohli:

Also Read: Jealousy Of Pakistan At Peak! Pak Minister Demands Action Against Team India For Wearing Army Caps