Beyonce and Jay-Z send Reese Witherspoon a case of Champagne; check out her reaction
Lately, Reese Witherspoon got a surprise from Beyonce and Jay-Z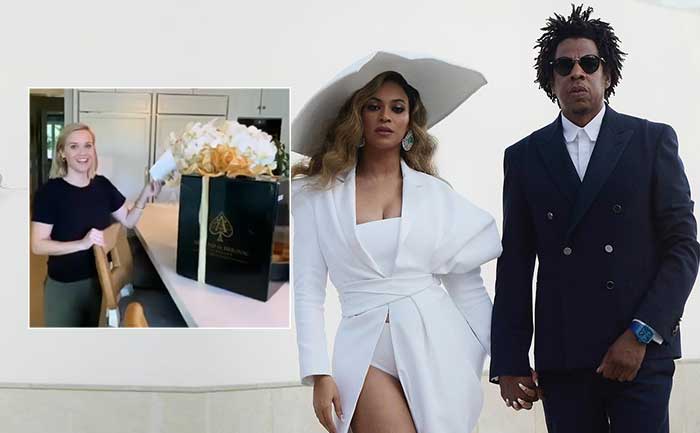 Beyonce and Jay-Z surprised Reese Witherspoon with the best gift ever. After the Golden Globe Awards, Reese Witherspoon returned home to an adorable surprise sent by Jay-Z and Beyonce. In fact, the popular couple surprised her with a beautiful bouquet of white flowers and as well as a case of Armand de Brignac champagne.
Lately, the Big Little Lies star took to Instagram stories to share the perfect gift that the super popular couple had sent her. She wrote, "I just got home from New York and the most beautiful flowers are here and, guys, a case of Ace of Spades champagne."
What's next is that the gift came with a cute note and the actress read it out to her fans which read, "More water, from Jay and B."
Not only that, Reese proceeds to try the champagne with her mother Betty and says, "It's really good", whereas her mother said, "Delicious, whoa". Check out her reaction here.
Moreover, Reese Witherspoon's special delivery arrived right after she posted a meme on social media. The meme read, "When you hear Reese Witherspoon is thirsty."
In the picture, Beyonce and Jay- Z can be seen. Also in the second picture she photoshopped herself with the couple at the Golden Globes.
Also, both, Reese and Jennifer Aniston had some of the best of Jay-Z's branded champagne at the star-studded award ceremony. Furthermore, after the award show, Jennifer Aniston opened up on the fact that Reese Witherspoon had asked the musician couple if they could get some of their champagne as they ran out of water at their table.
Also Read: Beyonce's Father Matthew Knowles Shares Cute Picture Of Blue Ivy Carter On Her 8th Birthday