'Beyonce Sharma Jayegi' Song: Twitterati Slam Ananya Panday, Ishaan Khatter And Singers For Racist Lyrics
Ananya Panday And Ishaan Khatter Have Released The Song, 'Beyonce Sharma Jayegi' From The Film 'Khaale Peeli'. The Song Has Received Massive Backlash On Twitter For Its Racist Lyrics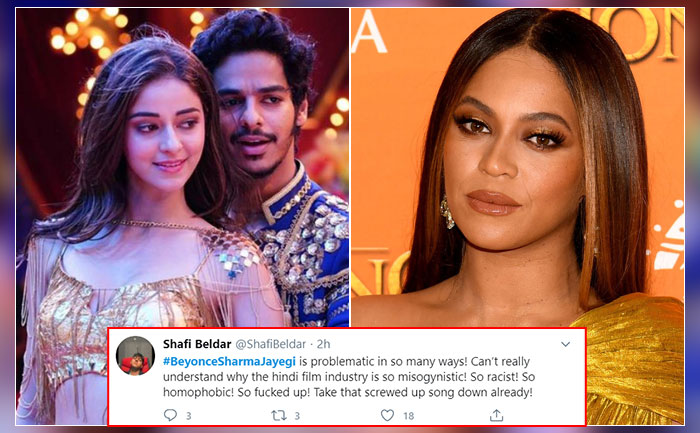 Ananya Panday and Ishaan Katter are currently gearing up to release their film, 'Khaali Peeli'. The duo treated their fans with the song, 'Beyonce Sharma Jayegi', which is a dance number from the upcoming flick. It is crooned by Nakash Aziz, Neeti Mohan and the music has been composed by Vishal and Shekhar. The song has received a massive backlash on Twitter as well as on YouTube, as netizens highlight the racist lyrics.
Within just minutes of the release of the song, 'Beyonce Sharma Jayegi', it has received more dislikes on YouTube than the likes. For the unversed, the outrage on the racist lyrics come a couple of months after the global Black Lives Matter movement.  Bollywood celebs including Vishal Dadlani had posted supportive messages on social media. Netizens took no time to highlight hypocrisy.
Here, take a look at the Twitter reactions on this song:
WHY!?!? HERE BEYONCE IS REPRESENTING INDIAN BROWN BEAUTIES AND YOU GUYS ARE SINGING GORIYA? BEYONCE SHARMA JAYEGI??! WHY THE ACTUAL DUCK WOULD YOU DO THAT . GAHHHHHHHHHHHHH DELETE THAT SH*T:((((((((((#BeyonceSharmaJayegi #Beyonce pic.twitter.com/qZqfEJm021

— yo_i_slay (@sickularbhakt) September 8, 2020
Of course, their marketing strategy worked and #BeyonceSharmaJayegi is now trending everywhere..more views! But really @VishalDadlani it's hard to understand someone that can create a beautiful piece of music like Madari thinks it's okay to abuse the art form like this for some $ pic.twitter.com/nH3t4DzpkX

— Priyanka Shahdadpuri (@prishahdadpuri) September 8, 2020
QUEEN BEY included South Indian girl in the brown skin girl mv and made Indians proud and what we did….made an embarrassing song #BeyonceSharmaJayegi in return. Bees will definitely sting now. #beyhivestings✊🏾 pic.twitter.com/eRrgz4wjvi

— Shubham Rai🍀 (@Shubham93994235) September 8, 2020
I had to bleach my eyes and brain after watching this🤬🤬🤬#BeyonceSharmaJayegi pic.twitter.com/gHr00xyiW6

— NARAYAN (@NARAYAN2002_) September 8, 2020
You're telling me not even a single person In the production house thought this was inappropriate and unnecessary?!😭
How can they release something like this! This Is a result of racism being normalized. Iam sorry #Beyonce you're a queen.#AnanyaPanday #BeyonceSharmaJayegi pic.twitter.com/AZvCujKA3a

— *Nancy* (@fishingislifeu) September 7, 2020
For more such updates, stay hooked on to The Live Mirror.
Also Read: 'Beyonce Sharma Jayegi' Song: Ishaan Khatter And Ananya Panday Flaunt Their Dance Moves