Bharat Bandh today: Rahul Gandhi, Opposition leaders march in protest against fuel price hike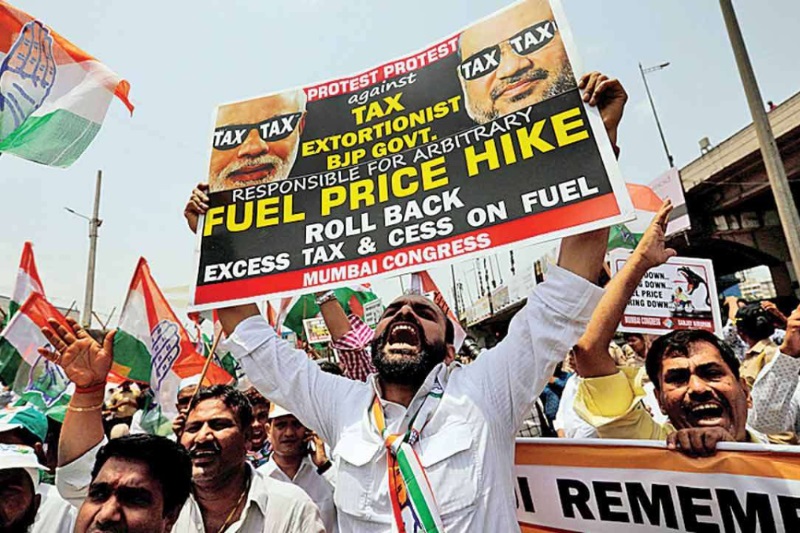 The Congress has called for a Bharat Bandh on Monday to protest against rising fuel prices as well as the depreciating value of rupee in comparison to the US Dollar.
While the Janata Dal-Secular (JD-S), Samajwadi Party (SP), Dravida Munnetra Kazhagam (DMK), Rashtriya Janata Dal (RJD) and Maharshtra Navanirman Sena (MNS) are supporting the shutdown, the Aam Aadmi Party(AAP), Biju Janta Dal(BJD), Shiv Sena and Trinamool Congress (TMC) have decided to stay away from it.
Congress kickstarted its protest against fuel price hike and weakening rupee from Rajghar, the memorial of Mahatma Gandhi.  Rahul Gandhi paid tribute to Mahatma Gandhi before the protest. He also offered collected during his Kailash Mansarovar Yatra.
The Meghalaya Congress has abstained from the nationwide bandh in view of the Meghalaya high court's ruling against bandh's in 2013.
Several highways were blocked in Gujarat by Congress workers. The Youth Congress and NSUI were also seen forcing schools to shut down in Ahmedabad.
Protesters also blocked movements of trains in Bihar at Jehanabad, Madhubani, Ara and Patna. Schools in Patna are also closed today in view of the bandh.
The bandh has not received any major response in Chennai. Transport services, office and school goers are seen rushing as usual.
Inter-state buses plying to Karnataka have been stopped in Hosur. Inter-state bus operations from Coimbatore have been completely suspended.
Congress MLA B. Nagendra blocked the Amaravati Express at Ballari Railway Station as part of Bharat bandh.
He also rode a horse to symbolically highlight the effect of increasing fuel prices.
Lt Governor Kiran Bedi also urged the people to report incidents of violence. Most of the shops remained closed in Pondicherry. Private vehicles continued to ply though in reduced numbers.
The Hindu quoted Kiran Bedi saying, "Anyone damaging public property during the bandh call today must be dealt with under substantive law, based on evidence recorded from the spot. And cases chargesheeted… People and property must be protected without any favour, whoever it be."
In Maharashtra, MNS confirmed its participation in the bandh but the Shiv Sena has decided to stay away. The Hindu quoted, The party's Rajya Sabha MP, Sanjay Raut, said, "The Sena does not support the bandh. Opposition parties seem to have woken up late. They are welcome to protest and when they are unsuccessful, we'll hit the streets."
However, petrol pumps in Aurangabad district have decided to remain shut till noon.
Left and AAP members were arrested in Tirupati because they were seen protesting early in the day at RTC junction. They were taken to M.R. Palle police station.
Also read: Election Chief rebukes KCR's early Telangana poll move