Bharat Movie Review: Salman Khan and Katrina Kaif take you on an emotional roller coaster
Bharat Honest Movie Reviews: Critics and Fans have declared Salman Khan-Katrina Kaif Film Bharat a Blockbuster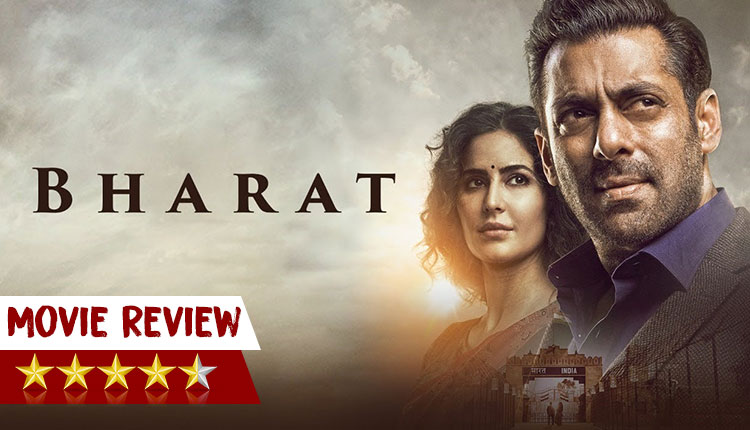 Bharat Director: Ali Abbas Zafar
Bharat Producer: Reel Life Productions, Salman Khan Films and T-Series
Bharat Cast: Salman Khan, Katrina Kaif, Sunil Grover, Jackie Shroff, Disha Patani
Bharat Rating: 4/5
Bharat Movie Review: Superstar Salman Khan is once again back with an Eidi for his fans, and what an Eidi!  Yes, the Dabangg Khan's most awaited film 'Bharat' is finally hit the theaters and fans are over the moon. Salman Khan has given them a masala entertainer with a solid emotional connect.
Ali Abbas Zafar's Bharat is a story of a man and a nation's journey together. Salman Khan's Bharat has emotions, romance, intrigue, patriotism and all the ingredients that make the movie a blockbuster. The Cherry on the cake is Salman Khan's performance, from a young circus worker to an old man he will keep you hooked throughout. The story of Bharat is such that you will instantly connect with it.
The film is all about Bharat (Salman) a resident of Pakistan (Mirpur). Bharat has to shift to India during the partition and in the process loses his father and sister. A few years later he joins the circus but quits it as he is not happy with youngsters emulating his stunts. He then goes to the gulf where he meets the love of his life Kumud Raina aka Madam Sir (Katrina Kaif).
To find out what happens next, you'll have to watch Salman and Katrina's yet another blockbuster film, Bharat.
It is a Salman Khan film all the way and he will leave you impressed as a 20-year-old to the '70s. Katrina Kaif as Kumud Raina has given a good performance. Salman and Sunil Grover's camaraderie is the scene stealer. We will love to see some more of the actor on the big screen. Disha Patani is like a breath of fresh air. Jackie Shroff and Tabu are the added bonus.
Ali Abbas Zafar's direction is taut. He has helmed all the emotional scenes quite tactfully and you will find yourself shedding a few tears too. The cinematography by Marcin Laskawiec is beautiful. Music by Vishal Shekhar is amazing, songs are situational, they blend in well with the visuals.
All in all, 'Bharat' is a must watch with your family this festive season.
Watch Bharat's trailer here:
Also Read: Bharat: 7 Interesting Facts About Salman Khan's Period Drama