'Bigg Boss 13' Written Update, October 11, 2019: Siddharth Shukla Wins The 'BB Fisheries' Task
'Bigg Boss 13' day 12 written update: Sidharth Shukla wins the 'BB Fisheries' task and gets saved from the nominations next week.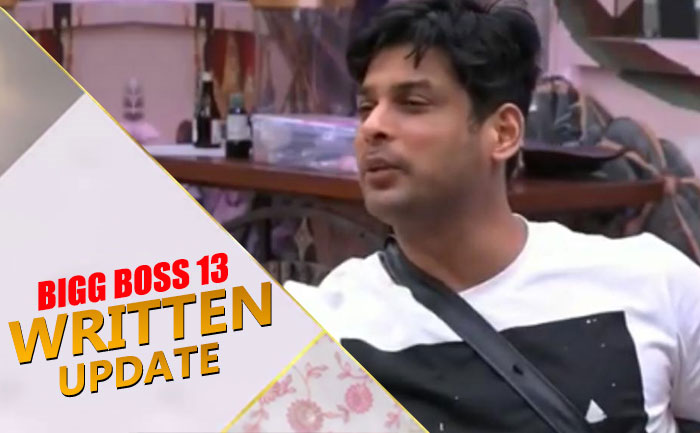 'Bigg Boss 13' drama keeps stranger every day and new fights arise for apparent non-issues every hour. The 11th October 2019's Bigg Boss 13 episode starts with the housemates arising upon hearing the song 'Dil Mein Baji Guitar' and dancing as usual.
Paras Chhabra was seen having a conversation with Asim Riaz and asks him to choose between playing individually or playing with others. To which, Asim gets upset and says that Paras is trying to play with mind games. Further, he says that none of the girls gave him a black ring because he did not plan against anyone of them.
Rashami Desai calls Asim responsible but a little childish. Koena Mitra says she has become the bad girl because she's strong. She says a mute watcher is also at fault. Later, Siddharth Shukla said that she is playing the emotional card by making up things in spite of the fact that he does not say anything to her.
Later, Asim and Siddharth have a conversation about Paras, Koena, Rashami about accusing Asim of being with a particular group. Koena comes and sorts out things with Sidharth and Asim.
Later on, Paras also clears things with Shehnaaz saying that people have started mistaking him as a bad person because of her. Post that, they hug it out. Later on, Rashami tries to make both of them understand their mistakes. She says that although Shehnaaz behaves like a child, she is very clever. Paras also asks Rashami to play smart and get emotional whenever Sidharth says something to her.
Later, Bigg Boss announces the 'BB Fisheries' task where the boys will get a chance to save themselves from nominations next week and Devoleena is assigned the director of the task and is also allowed to take part in it and she becomes the queen and the boy who has his pond cleanest becomes the winner.
Dekhne ke liye kaun bachega aaj ke nomination se TUNE IN NOW!

Anytime on @justvoot.@Vivo_India @BeingSalmanKhan #BiggBoss13 #BB13 #BiggBoss #SalmanKhan pic.twitter.com/W1LOHeCciQ

— COLORS (@ColorsTV) October 11, 2019
Shehnaaz put all the fish in Paras' pond and he, in turn, threw it all into Abu's pond. Shukla and Mahira get into an argument and he tells Mahira her shoe is more beautiful than her face and when she sings, he says her voice is worse Koena gave her fish to Abu's pond and also taunts him in a sarcastic manner before leaving and Shefali put hers in Sidharth's pond.
Shehnaaz and Paras talk about their relationship further in the show. Paras told her that if she does not trust him, he will never talk to her after the show. Paras tells Gill that Mahira is his support. Soon, Paras called Dalljiet and asked her if he had asked her to throw Shehnaaz's pot.
Dalljiet calls out Paras separately to talk about the same. She further says that she does not want to get in between Paras and Shehnaaz and also gets angry about the 'promise' thing that Paras asked her. Yet again, Paras and Shehnaaz have an argument.
The fisheries task is announced as complete, Bigg Boss asked Devoleena to remove two black rings from Sidharth Shukla's name as he wins the task. Bigg Boss announced Sidharth as safe from nominations next week and said  Paras, Sidharth Dey, Abu and Asim as nominated for evictions this week.
Later on, Arti tries to solve the issues between Sidharth with Rashami. The latter asks Arti not to come in between them and that Sidharth has never come to talk to her. She further states that if he has anything to clear out he will come to her herself.
Later, Sidharth has a conversation with Rashami saying that he has not said anything bad related to her. Rashami says that she does not want any third person, especially Arti to clear things out between them. They even assure each other that they won't speak about any personal things in front of others.
ALSO READ: Bigg Boss 13 Double Eviction: Koena Mitra And Dalljiet Kaur To Be Eliminated?