Bigg Boss 13 Day 3 highlights: The Hospital task turns war zone
Bigg Boss 13 is already on air since past two days and here all about day 3 when the home was turned into a hospital for a new task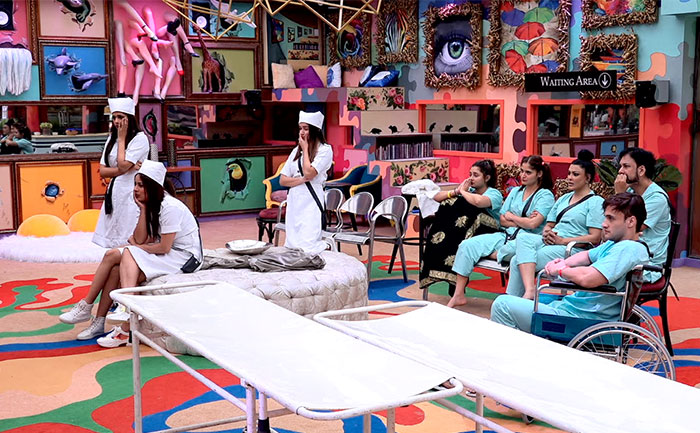 Indian television's popular show Bigg Boss is once again live. The 13 season has celebrity contestants competing for the prize this year. So we have Abu Malik, Arti Singh, Asim Riaz, Dalljiet Kaur, Devoleena Bhattacharjee, Koena Mitra, Mahira Sharma, Paras Chhabra, Rashami Desai, Shefali Bagga, Shehnaaz Kaur Gill, Siddharth Dey and Siddharth Shukla in the house.
It has been just two days but temperatures are already on an all-time high on the show. The fights have already kick-started between Asim and Paras, Dey and Shukla among others. Ration seems to be a major bone of contention inside the house, an argument ensued between Paras Chhabra and Azim Riaz after Dalljieet Kaur about the usage of resources. This is followed by argument between Siddhartha Dey and Sidharth Shukla, where the latter accuses the former of being unnecessarily aggressive.
A sneak peek video from the upcoming episode of Bigg Boss is already out and gives viewers some details of the happenings inside the house. In the episode, they have been assigned the weekly task called Bigg Boss Hospital where Team A will be the patients and Team B will be the medical staff. But there's a twist! These doctors will not be treating these patients but torturing them as commanded by Bigg Boss.
Siddharth Shukla is the first to face the torturous task. He is tortured by with gobar and keechad and they even wax his legs and put slabs of ice on him. Seeing this Rashami and Arti are left in tears but Siddharth doesn't react at all.
Check the video shared by colors here:
Next is Arti and Rashami's turn. Shefali and Shehnaaz are assigned to torture the actors. They soon get personal as Shefali asks Arti about her relationship with Shukla, what went wrong and if their wedding was called off or not. This makes Arti sob but she controls herself.
Viewers will also see the growing intimacy between Sidharth and Rashami.
Later in the day, Bigg Boss announced the first nomination task. The girls were asked to give a heart-shaped pillow to a contestant of their liking, one they thought would not break their trust. The Boys too were asked to select one contestant they would want to save from nominations.
Let us see how far the contestants go to win the season.
Also Read: Bigg Boss 13: Rashami Desai rubbishes rumours about getting married to Arhaan Khan on the show