BJP neta Ram Kadam claims to kidnap women for his men, gets trolled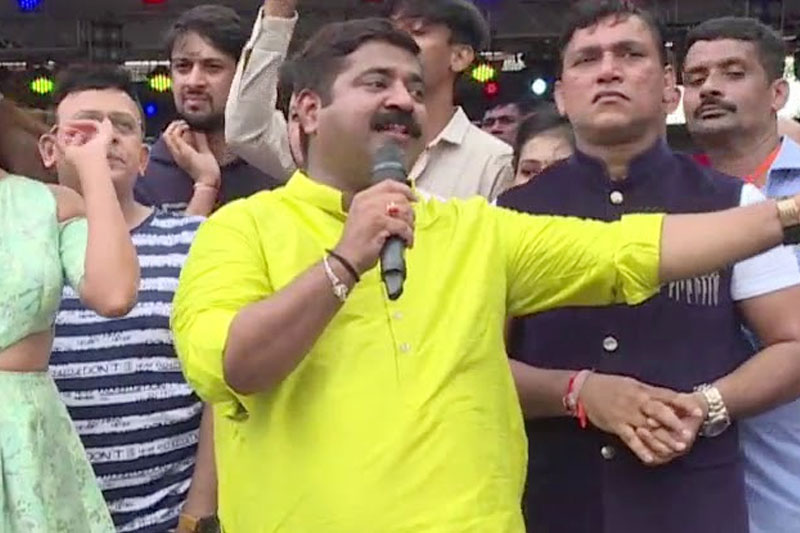 Bharatiya Janata Party lawmaker from Maharashtra exceeded the expectation of all motormouth netas who gave insensible comments till now. Ram Kadam, the MLA from Mumbai's Ghatkopar constituency, on Monday was seen allegedly promising to kidnap women, for men who seek his help. The video was shot during a program of Dahi Handi festival in Ghatkopar and went viral too.
The video, shared by NCP MLA Jitendra Awhad on Twitter, shows that the BJP lawmaker while addressing people of all possible help. In his speech, the legislator was seen offering his phone number and suggesting people to call him any time. Also, the most interesting part of the video shows that Kadam promising his men to even abduct/kidnap the girl for them.
"You can call me.. if you call me saying I have proposed a girl and need your help.. I will definitely help you.. I will call your parents and ask them…If they say they like that girl then… I will kidnap that girl and give it you.. now take my number," said Kadam, as per the video being circulated.
Whenever you need me, call me. Say you've proposed a girl & she isn't ready&you need help. It'll be wrong but I'll help. What will I do? I'll go&talk to your parents, &if they say they like the girl, we'll help you elope: BJP MLA Ram Kadam during Dahi Handi celebrations yesterday pic.twitter.com/y0W6hITdxg

— ANI (@ANI) September 4, 2018
बेताल वक्तव्य करणारा भाजपा नेत्यांमध्ये आणखी ऐकाची भर.. रक्षाबंधन , दहिकाला उत्सव या पवित्र सणा दिवशी आमदाराने तोडले आपल्या अकलेचे तारे !
कशा राहतील यांचा राज्यात महिला सुरक्षित? pic.twitter.com/Z5JAx5ewrN

— Dr.Jitendra Awhad (@Awhadspeaks) September 4, 2018
Criticising the speech of Kadam, Shiv Sena's Aditya Thackeray stated, "One BJP MLA has offered from a stage to help boys kidnap girls and marry them even against the will of the girls. I guess he believes marriage is like forming a govt. Ashamed and disgraced that he sits in the legislative assembly of Maharashtra- a land of culture & women liberty."
One BJP MLA has offered from a stage to help boys kidnap girls and marry them even against the will of the girls. I guess he believes marriage is like forming a govt. Ashamed and disgraced that he sits in the legislative assembly of Maharashtra- a land of culture & women liberty

— Aaditya Thackeray (@AUThackeray) September 4, 2018
He further questioned Devendra Fadnavis government on the action would be taken on the leader. He tweeted, "Not just an outright apology from him, but I'd want to know from the Home Minister of Maharashtra what action will be taken for openly making such statements that threaten the safety of girls and offering safety to those wanting to kidnap them."
Not just an outright apology from him, but I'd want to know from the Home Minister of Maharashtra what action will be taken for openly making such statements that threaten the safety of girls and offering safety to those wanting to kidnap them.

— Aaditya Thackeray (@AUThackeray) September 4, 2018
Taking a jibe at Kadam's speech, Preei Sharma Menon, a member of AAP's national executive said, "Dear Devendra Fadnavis, Congratulations on the new job you have given your MLAs of abducting girls. Is it national policy for BJP? MLA Ram Kadam offers to abduct girls for boys. He even offers hotline number for it."
Dear @Dev_Fadnavis
Congratulations on the new job you have given your MLAs of abducting girls.
Is it national policy for @BJP4India ?
MLA Ram Kadam offers to abduct girls for boys. He even offers hotline number for it. 👏👏 https://t.co/IdcuDrKDyo

— Preeti Sharma Menon (@PreetiSMenon) September 4, 2018
ALSO READ: BJP neta Ashwini Kumar Choubey calls Rahul Gandhi schizophrenic, naali ka keeda