BJP office bearer meeting: Amit Shah vows to win Lok Sabha poll with more votes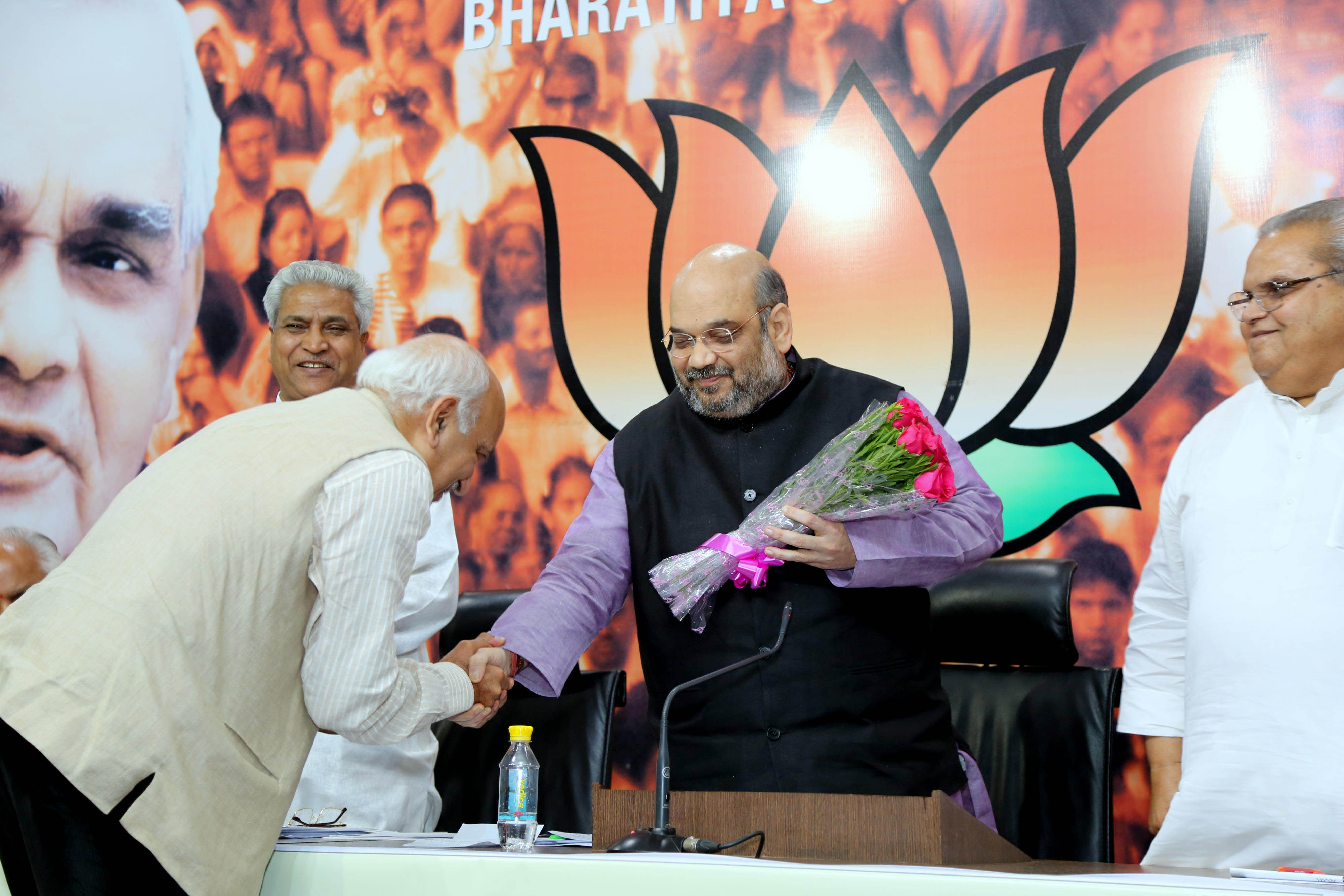 Days after when many organisation of upper castes staged a protest and observed Bharat bandh against SC/ST amendment, Bharatiya Janata Party Chief Amit Shah started a party's national office bearers meeting after paying floral tribute at a statue of Bhimrao Ambedkar in New Delhi.
After this office bearer meeting, there will also be party national executive meeting that will focus on the strategy for the upcoming crucial Lok Sabha election and assembly elections of five states.
Before going to office bearers meeting, Amit Shah visited Dr Ambedkar International Centre and paid a tribute to Ambedkar. BJP has given meeting venue a theme of 'Sadaiv Atal", in the memory of former Prime Minister Atal Bihari Vajpayee who passed away last month. Inside the venue premises, a hoarding read Atal's statement for Ambedkar: "The Constitution Dr Ambedkar has given to us, that is our greatest heritage."
There was one more hoarding that read, "Panchteerth" that the government has developed as a tribute to Bhimrao Ambedkar. These 'panchteerths' are one of the most important places related to Dr Ambedkar's life.
A party office-bearer after said that party chief Amit Shah in his address only stressed on making the party more strong and increase activities, keeping an eye on next Lok Sabha election. He also asked to be ready as opposition parties are creating propaganda and misleading people but BJP will register a victory in 2019 by winning more seats than 2014.
In the meeting, it was discussed that party workers in coming days will approach nearly 22 crore beneficiaries of different schemes of NDA led Central and state governments and will ensure that these beneficiaries turn up to cast their votes on polling day.
Indian Prime Minister Narendra Modi along with cabinet ministers and delegates from across the country will attend the national executive meeting that will begin at 4 pm at the same venue. As the party has turned to the legacy of Atal, videos and audio of his speeches and poetry are being played inside the venue.
Also read: Rafale Deal: Amit Shah calls Rahul Gandhi a liar, takes jibe at 'Jhooti' Congress