BLACKPINK's Jennie And The Weeknd Meetup In LA; Blinks Speculate A Collab
BLACKPINK member, Jennie attended a party with the Khadra twin sisters (Simi and Haze) and Deb Never in LA. The SOLO singer exchanging hugs with The Weeknd sets internet on buzz mode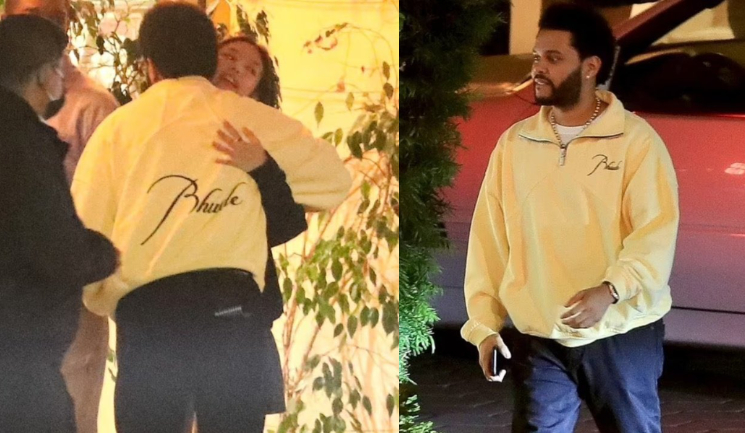 BlackPink's Jennie and The Weeknd set the internet on buzz mode with their latest spotting. Blinks speculate over a possible collab between them. Both of them were seen exchanging hugs at a party in LA. Their pictures go viral on the internet as fans speculate that they might collaborate for singles. With the way they greeted each other, it seems they share a warm bond of friendship. And thus the strong buzz about a possible collab.
Jennie attended a party with the Khadra twin sisters, Simi and Haze. Dressed up beautifully she arrived for the Halloween weekend party. The YG Entertainment's talent met the Canadian singer and was seen exchanging hugs with smile on her face. Both of them caught candid outside a restaurant. Soon after the pictures go viral over internet, Blinks highlight how Jennie once sang The Weeknd's song- I Can't Feel My Face. Jennie has always confessed her love for The Weeknd songs and she also crooned the cover versions. Blinks have a strong feeling about this possible collaboration.
Check out a few Twitter reactions by Blinks:
📸 #JENNIE e o cantor The Weeknd ontem nos EUA 🇺🇸!#제니 #블랙핑크 #BLACKPINK @BLACKPINK pic.twitter.com/bTDtTg0l1H

— PORTAL BLACKPINK ❤️‍🔥 (@portalblackpink) November 4, 2021
Everyone should fear Jennie Kim's power

What's next? The Weeknd ft. Jennie? pic.twitter.com/ByrZ1y9csG

— 🍒 🅖 🍒 (@KJenCams) November 4, 2021
#TheWeeknd and BLACKPINK's #Jennie in Los Angeles last night!!! What do you think… a song together?! Or maybe Jennie will appear in his upcoming HBO show 🔥🔥🔥 pic.twitter.com/tXjkR1xV67

— Mike Adam (@MikeAdamOnAir) November 4, 2021
everyone in the tl saying they're happy for jennie from singing the weeknd's songs to finally meeting him. Well, let me say this too: I'm so happy for Abel from searching JENNIE's ig account and liking her post to finally meeting her. 😃 pic.twitter.com/3NBwJWDmb9

— 🔗 (@jnkaptured) November 5, 2021
JENNIE X THE WEEKND COMING SOON pic.twitter.com/6XmCz6Ar2t

— Aaliyah 🖤 (@BLlNKPINKOT4) November 4, 2021
For more such updates, stay hooked on to The Live Mirror.
Also Read:  GOT7 Member Mark Tuan Shut Rumors Of Dating BLACKPINK's Rose?