BMC New Guidelines: Cops At Entrance Of Sealed Buildings In Mumbai
BMC New Guidelines: Cops At Entrance Of Sealed Buildings, Marshalls To Ensure Masks In Mumbai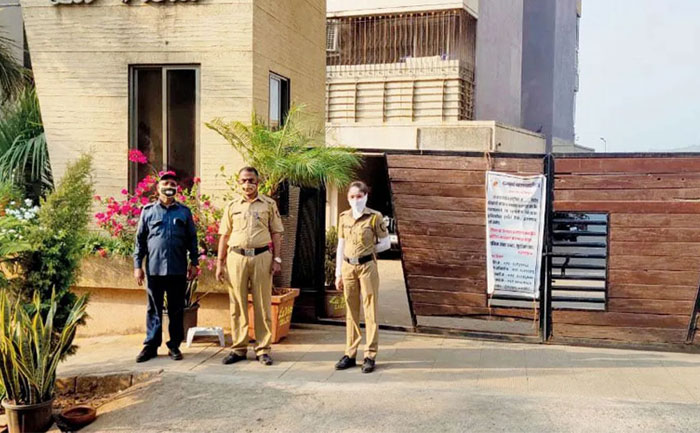 The Brihanmumbai Municipal Corporation (BMC) has issued a new set of Standard Operating Procedures. This issue to the sharp rise in COVID-19 cases in Mumbai.  As per current civic protocol, a building is sealed if it has five or more COVID-19 patients. Cops will be deployed in front of the sealed buildings.
The decisions were taken at a virtual meeting chaired by Mumbai's civic commissioner Iqbal Singh Chahal. It was attended by ward officers, hospital deans and officials of the civic public health department. The Mumbai police's deputy commissioner (operations) too was a part of the meet.
The BMC release has also said that the number of COVID-19 patients had gone up slightly in the metropolis. It is therefore important to be vigilant. Authorities in all 24 wards have been told to appoint clean up marshals. They have to take punitive action against those not wearing masks or defying social distancing norms.
Chahal has directed officials to deploy police at the entrance of sealed buildings. This is to stop people from entering them so as to curb the spread of infection. People who come to provide various services would also be stopped. He asked the people of the buildings to co-operate so that the pandemic could be controlled. At present, there are 27 sealed buildings in Mumbai.
As the possibility of the Third COVID-19 wave looms large, Iqbal Singh Chahal has asked civic hospitals and jumbo treatment centres to be prepared.
He added that Civic officials have to ensure all are vaccinated in the city at the earliest.
Also Read: COVID-19: BMC seals Suniel Shetty's building in Mumbai