51 Popular Indian Actors and Their Real Names, You Would Be Shocked
Check out the names Reel and Real names of these famous Indian actors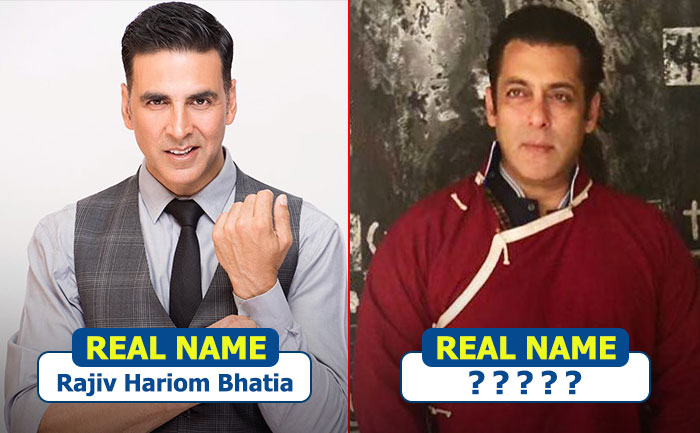 The name of Bollywood actors are very familiar to all of us, we know the Hindi film celebrities more than we know the people around us. The news about all these celebs is easily available and accessible in the forms of books, movies and other resources. Most of us are extremely curious about how these people live and behave in their real lives when they are off camera.
But ethically we should all remember that these people too have their private life and they also need privacy. We should not try and invade their private space and respect their personal lives. They've too had their experiences and their lessons like each one of us.
One of the most fascinating things is how these people change their names once they enter the industry. There are many reasons: some do it to make sure their name is easily remembered while some do so for reasons such as numerology. Either way, it is quite fascinating to know the names and the story behind those names.
Have you ever thought that your favourite star might have a different name you don't know of?  We are quite confident that you all will be very surprised when you get to know about their real names.
Bollywood Stars: Reel & Real Names of 51 Famous Indian Actors
Salman Khan – Abdul Rashid Salim Salman Khan
Jackie Shroff – Jaikishen Kaku Bhai
Preity Zinta – Preetham Singh Zinta
Hrithik Roshan – Hrithik Nagrath
Govinda – Govind Arun Ahuja
Katrina Kaif – Kate Turquotte
Mallika Sherawat – Reema Lamba
Akshay Kumar – Rajiv Hariom Bhatia
Rajnikant – Sivaji Rao Gaekwad
Amitabh Bachchan  Inquilab Sriv-tava
Dilip Kumar – Muhammed Yousuf Khan
Ranveer Singh – Ranveer Bhavnani
Shahid Kapur – Shahid Khattar
Sunny Deol – Ajay Singh Deol
Saif Ali Khan – Sajid Ali Khan
Bobby Deol – Vijay Singh
Mithun Chakraborty – Gouranga Chakraborty
Rekha – Bhanurekha Ganesan
Ajay Devgn – Vishal Devgn
Sanjeev Kumar – Haribhai Jarivala
Kamal Ha-an – Alwarpettai Aandavar
Sunny Leone – Karanjit Kaur Vohra
Jeetendra – Ravi Kapoor
Sridevi – Shree Amma Yanger Ayyapan
Rajesh Khanna – Jatin Khanna
John Abraham – Farhan
Danny Denzongpa – Tshering Phintso Denzongpa
Johnny Lever – John Prakasa Rao Janumala
Tabu – Tabassum Hashim Khan
Jaya Prada – Lalita Rani
Shilpa Shetty – ashwini Shetty
Madhubala – Mumtaz Jehan Begum Dehelvi
Dev Anand – Devdutt Pishorimal Anand
Chunky Pandey – Suyash Sharad Pandey
Nana Patekar – Vishwanath Patekar
Meena Kumari – Mahjabeen Bano
Sunil Dutt – Balraj Dutt
Mahima Chaudhary – Ritu
Shammi Kapoor – Shamsher Raj Kapoor
Guru Dutt – V-anth Kumar Shivashankar Padukone
Lucky Ali – Maqsood Mehmood Ali
Sanjay Khan – Abbas Khan
Dharmendra – Dharam Singh Deol
Manoj Kumar – Harikrishna Giri Goswami
Kishore Kumar – Abhas Kumar Ganguly
Tun Tun – Uma Devi Khatri
Jiah Khan – Nafisa Rizvi Khan
Johnny Walker – Badruddin Jamaluddin Qazi
Reena Roy – Saira Khan
Ashok Kumar – Kumudlal Kunjilal Ganguly
Nargis – Fatima Rashid
That's why they say, fame comes with a lot of other things.