Lok Sabha Elections 2019: Which Bollywood Actors Are Leading Or Trailing?
Urmila Matondkar, Jaya Prada and Hema Malini are Trailing in Lok Sabha Election 2019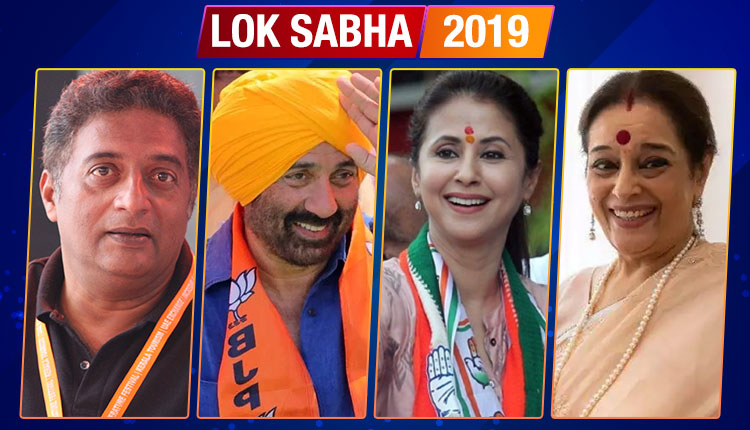 Today is the day, which will decide the political fortune of almost 8,000 people who contested 2019 Lok Sabha Elections. You may know that there are several Bollywood stars such as Urmila Matondkar, Sunny Deol, Prakash Raj, Poonam Sinha, Jaya Prada and others, who fought 2019 General Election. The counting of votes for 2019 LS elections results have already started and early trends are predicting the win or lose of these Bollywood celebrities.
Urmila Matondkar contested from Mumbai North-Maharashtra, Prakash Raj from Bangalore Central-Karnataka, Poonam Sinha from Lucknow-Uttar Pradesh, Sunny Deol from Gurdaspur-Punjab and Jaya Prada from Rampur and Hema Malini from Mathura.
Bollywood Celebrities: Who won or lost Lok Sabha Election 2019
As per the latest, Urmila Matondkar is trailing by more than 2 lakh vote by BJP nominee Gopal Shetty. It is to be noted that Urmila Matondkar is one of the latest Bollywood celebrities who joined politics. Yes, in March this year, she joined Raahul Gandhi led-Congress and decided to fight against BJP's stalwart Gopal Shetty, who has earlier defeated Congress leader Sanjay Nirupam by huge margins.
2. Jaya Prada:
Bollywood actor Jaya Prada who fought this election against Samajwadi Party's senior leader Azam Khan seems to have lost this election. Yes, If anything to by latest trends, Jaya Prada is trailing behind Azam Khan. Notably, this is not the first time Jaya is representing Rampur constituency, she has earlier represented the same constituency in 2004 and 2009. The two-term Member of Parliament has left the party and joined BJP to fight 2019 Lok Sabha Elections. But, her decision of fighting against Azam Khan seems to be false.
Bollywood actor Prakash Raj, who has fought this Lok Sabha election as an independent candidate, seems to have lost the battle. He contested from Bangalore Central constituency in Karnataka. Prakash Raj is known for criticising BJP and Narendra Modi's ideology.
As per the trends, Prakash Raj has only got 13,000 votes in the constituency where the Congress's Rizwan Arshad is leading. Arshad has currently secured 2,86,969 votes, ahead of P.C. Mohan, the BJP's sitting MP from the seat. Notably, Mohan had defeated Arshad in 2014 by a margin of 1.37 lakh votes.
4. Sunny Deol:
Bollywood actor Sunny Deol, who fought election from Gurdaspur, Punjab has taken a comfortable lead. Yes, As per the latest trends, Sunny Deol is leading with more than 80,000 votes. Deol represented BJP from Gurdaspur and fought against Congress nominee Sunil Kumar Jhakar.
Notably, the Gurdaspur seat has been a BJP stronghold, represented by actor-turned-politician Vinod Khanna in 1998, 1999, 2004 and 2014. After his death, there was speculation that his wife Kavita Khanna would be nominated from the seat. When Sunny Deol was announced as the Gurdaspur candidate, she expressed her disappointment but later she happily accept the party's decision.
5. Hema Malini:
Former Bollywood actress Hema Malini, who is representing BJP in Uttar Pradesh's Mathura is trailing behind RLD's Kunwar Narendra Singh, the Uttar Pradesh alliance's nominee, in her parliamentary constituency. Notably, she is seeking her second term as a Member of Parliament from Mathura.
Hema Malini's election campaign got boost when her husband and actor Dharmendra joined her campaign her request people to vote for her. Responding to Dharmendra's clam, she has done several works in the constituency, people said that they have spotted celebrity lawmaker in the past five years.
Also Read: Watch Video: Arnab Goswami Gets Mercilessly Trolled For Calling Sunny Deol As Sunny Leone