Jackie Shroff turns 64: Anil Kapoor, Urmila Matondkar and others pour in wishes
Jackie Shroff is celebrating his 64th birthday today. Take a look at the wishes that he received from the B-Town celebs.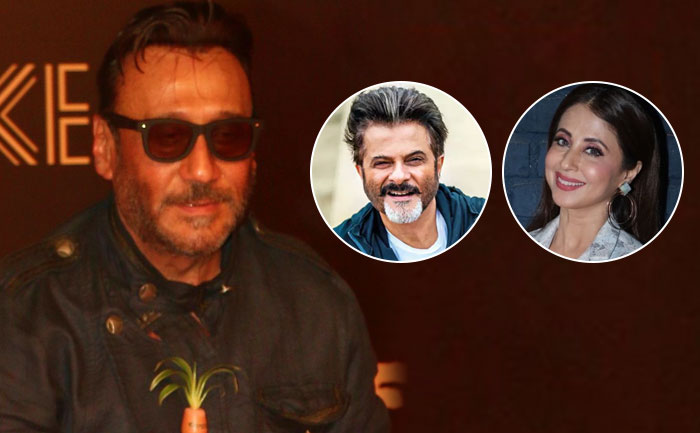 Jackie Shroff celebrates his 64th birthday today. The actor is inarguably one of the finest actors we have in Bollywood. Fans have been pouring in wishes and love for the actor on Twitter. Many actors from the film fraternity have also taken to the micro-blogging site to wish the actor on his special day.
Urmila Matondkar: "Hot n Stylish forever 🤩and also most amazing n appreciative costar to have ❤️Happy Birthday @bindasbhidu 🥳🥳🥳
May you remain Rangeela forever 🤗"
Hot n Stylish forever 🤩
and also most amazing n appreciative costar to have ❤️
Happy Birthday @bindasbhidu 🥳🥳🥳
May you remain Rangeela forever 🤗 pic.twitter.com/Nf0Kdnsd4m

— Urmila Matondkar (@UrmilaMatondkar) February 1, 2021
Raj Babbar: "I join lakhs & lakhs of @bindasbhidu fans in wishing a Happy Birthday to my friend & my favourite Jacky Shroff ! As the original macho-man you have regaled the audience over generations. May your charisma continue to grow strong ! Wishing you many more years of creativity !"
I join lakhs & lakhs of @bindasbhidu fans in wishing a Happy Birthday to my friend & my favourite Jacky Shroff !

As the original macho-man you have regaled the audience over generations. May your charisma continue to grow strong ! Wishing you many more years of creativity ! pic.twitter.com/vOgSG9gdDQ

— Raj Babbar (@RajBabbarMP) February 1, 2021
Vivek Oberoi: "A Heart of gold, An institution of stardom, A masterclass of simplicity @bindasbhidu hai ekkich hero. Happy birthday Jaggu dada, thank you for being the original guru of real #Heropanti"
A Heart of gold, An institution of stardom, A masterclass of simplicity @bindasbhidu hai ekkich hero. Happy birthday Jaggu dada, thank you for being the original guru of real #Heropanti

— Vivek Anand Oberoi (@vivekoberoi) February 1, 2021
Neil Nitin Mukesh: "Happy Birthday to one of the kindest , most stylish, a fabulous singer and man with a golden heart @bindasbhidu JACKIE DADA !!! Have a fabulous year ahead. Loads of love to you ❤️🤗😘🎂"
Happy Birthday to one of the kindest , most stylish, a fabulous singer and man with a golden heart @bindasbhidu JACKIE DADA !!! Have a fabulous year ahead. Loads of love to you ❤️🤗😘🎂 pic.twitter.com/vOlnVRCgQV

— Neil Nitin Mukesh (@NeilNMukesh) February 1, 2021
Anil Kapoor: "Janam Din Mubarak Ho @bindasbhidu mere bhai… My bhidu in life and bade bhaiya on screen, may this be the best year yet! 🤗"
Janam Din Mubarak Ho @bindasbhidu mere bhai… My bhidu in life and bade bhaiya on screen, may this be the best year yet! 🤗 pic.twitter.com/bzxGD06Hmq

— Anil Kapoor (@AnilKapoor) February 1, 2021
Nidhi Agerwal: "Wishing one of the nicest person in the world a very happy birthday! @bindasbhidu @AyeshaShroff ❤️✨🤗 god bless"
Wishing one of the nicest person in the world a very happy birthday! @bindasbhidu @AyeshaShroff ❤️✨🤗 god bless pic.twitter.com/OItuyLfgX2

— Nidhhi Agerwal (@AgerwalNidhhi) February 1, 2021
Sanjay Dutt: "Working with @bindasbhidu in so many projects has given me a friend for life. Wishing you the Happiest Birthday and a year filled with love, health & happiness!"
Working with @bindasbhidu in so many projects has given me a friend for life. Wishing you the Happiest Birthday and a year filled with love, health & happiness! pic.twitter.com/xAgFMP2vHQ

— Sanjay Dutt (@duttsanjay) February 1, 2021
ALSO READ: Jackie Shroff On Turning 64: I Thought I Was Turning 46