BTS Tour 2020: Big Hit Entertainment teases BTS new tour coming in 2020
Big Hit Entertainment has finally dropped teaser image of BTS 2020 Tour on Twitter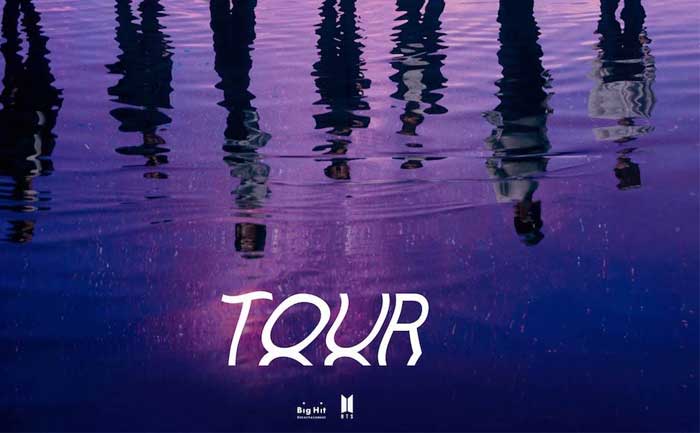 BTS is undoubtedly one of the most popular boy bands across the world. Following their Love Yourself tour last year fans have been desperately waiting for the announcement of BTS next tour. And now we  have a piece of good news for BTS Army.
Taking to Twitter, Big Entertainment has teased BTS 2020 Tour. It seems like BTS are all set to strike the world once again in 2020. As soon as Big Hit Entertainment posted posted a Tweet teasing about BTS 2020 Tour, BTS Army went crazy and made #BTSTour2020 top trend on Twitter.
April 2020. Stay tuned. pic.twitter.com/pzCm64fA3u

— BigHit Entertainment (@BigHitEnt) December 24, 2019
The teaser image showcases the 7 members of BTS reflected on a mystical surface of water, with the word reads 'TOUR' written in curved letters. Sharing the above image on Twitter Big Hit Entertainment wrote, "April 2020. Stay tuned."
If anything to by Big Hit Entertainment's new tweet, BTS will start their new tour in April 2020. Notably, not so much information about BTS' next year tour is announced as of now but news of a new tour is definitely enough to get fans excitedly speculating about it.
It is yet to be clear whether the announcement is made for their new song or tour but seeing that a new tour is only four months away was enough to get fans ready to travel through time and immediately skip to April.
You can find out below what fans have to say about Big Hit Entertainment's announcement.
TOUR OF THE YEAR COMING TOO pic.twitter.com/C3M52sJcxX

— ?????? ?????? ??? ??? (@namuuboop) December 24, 2019
Reminds me of their reflection during their Fake Love perf at MAMA last year.#BTStour2020

[@BTS_twt] pic.twitter.com/mFozSeyfw1

— Rosan ? (@xCeleste___) December 24, 2019
by April 2020 my skin will be the clearest I will get accepted in the program I want my money will be multiplying I will have ticketS to see bts and one day will b soundcheck n barricade pic.twitter.com/qg4TwkzIWK

— bfly | ♑️ cap szn (@blaqbfly) December 24, 2019
we tripping cause they be saying tour but the guys are like standing on water and ya know wheres water? In the mf ocean so what if bts tour in a cruise ship?? i connected the dots

— ana ? (@jinbiscuit) December 24, 2019
army stan twt: minding their business
bighit: April 2020. Stay tune.
army stan twt: pic.twitter.com/KSrO6Dj45t

— ??? ༓・*˚⁺‧͙ (@bigtitsquad) December 24, 2019
Notably, BTS has recently topped charts, sold out stadiums and dominated social media this year. According to Chart Data, they weren't the only Korean pop group to captivate U.S. audiences in 2019, they were responsible for the only Korean album and single to earn RIAA certifications in 2019, according to Chart Data.
Their most recent album, Map of the Soul: Persona, earned a gold certification from the RIAA for sales exceeding 500,000 units.
Also Read: Here's Why BTS Gifted Halsey A Sparkly Microphone, Find Out