BTS members give special birthday surprise to Jimin
Jin, Suga, J Hope, RM, V and Jungkook made Jimin birthday heart melting with their surprise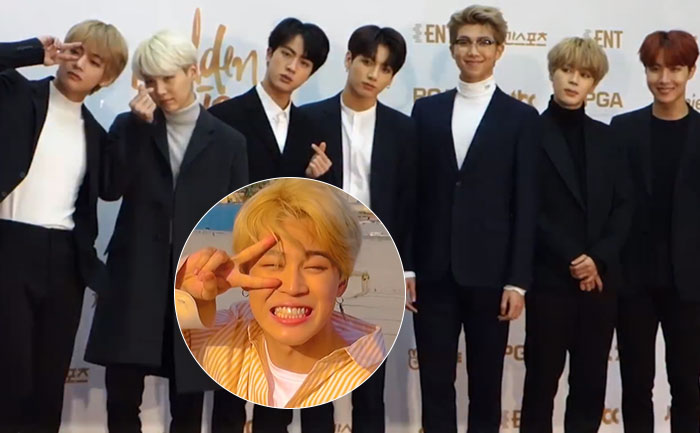 On the occasion of Jimin's birthday Twitterati is crazy all about BTS as they celebrate the birthday of Jimin. The ARMY celebrated Jimin's birthday in the most joyous and wonderful way. Jimin is not only the heartthrob of many fans but also the most loved band member. The Korean pop band member is a famous sensation and his fans just can't seem to stop gushing over him on his memorable day.
Jimin turned 24 years old on his birthday and his fans made sure he had one delightful, most cherished birthday. The twitterati used hashtags such as #HappyBirthdayJimin, #HappyBirthdayGorgeous. However, it wasn't just that, his band mates Jin, J Hope, Suga, RM, V and Jungkook did something heart warming that made Jimin on top of the world.
The all boys band are now in Saudi Arabia where they had performed their first concert since their break came to an end. Even though the Riyadh concert happened over Jimin's birthday weekend, the band all of a sudden halted performing and began playing the birthday song. From the video, it can be seen that Jimin was asking his mates if they were singing the song for him until he becomes elated with excitement and gets off the stage.
Following that the ARMY joined BTS to wish Jimin. Besides that, there were birthday wishes for Jimin from the official twitter account. Also, there were some hilarious meme clicks that made fans laughing like anything. Here are some photos for you to have a look at below.
지민이형 생일축하해요! 그리고 미안해잉?#지민생일ㅊㅋ #진짜미안해 #미안해 #다시한번미안해 #뭘해도멋있는거아는데미안해#아직자고있나본데미안해 #내맘알지미안해#너는나나는너무미안해 #웃음을위해어쩔수없는판단이었어미안해 #아무리생각해도저사진이찰떡이었어미안해 #사랑해 pic.twitter.com/1eQSkKceyZ

— 방탄소년단 (@BTS_twt) October 12, 2019
생일 축하합니다 지민씨 #남준이형 pic.twitter.com/KcKKMzQ12a

— 방탄소년단 (@BTS_twt) October 12, 2019
우리 이쁜 지미니 생일축하해잉??
한국가서 맛난거 먹쟈 ??#HappyBirthdayJimin #지민이생일ㅊㅋ #홉필름 pic.twitter.com/9yc4FffMqR

— 방탄소년단 (@BTS_twt) October 12, 2019
Also Read: Despite Backlash, K-Pop Group BTS To Perform In Saudi Arabia On October 11