BTS' V First K-Pop Star To Feature On Burj Khalifa
BTS' V becomes the FIRST and the only Korean artist to feature on Burj Khailfa on 25th birthday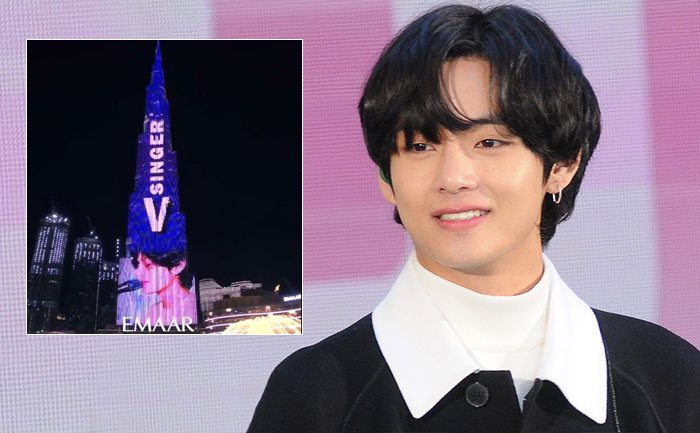 BTS' Kim Taehyung has turned a year older on December 30. To make the day special V received a special treat from his Chinese fans. The Chinese BTS Army fans collected a sum of a whopping $1 M as a part of his birthday projects. The Chinese fandom of BTS V displayed their love for the idol by putting V on the world's one of the tallest buildings Burj Khalifa!
A special birthday message was played out on the screens of the World's tallest building. In addition to the grand LED display, a musical fountain played V's hit solo song 'Winter Bear', which eared hoots and cheers from his fans.
Watch the video here shared by Burj Khalifa's verified page,
#BurjKhalifa celebrates the birthday of V, the South Korean singer from the popular band BTS!#TaehyungonBurjKhalifa #HAPPYVDAY
#HappyTaehyungDay
#HappyBrithdayTaehyung@KIMTAEHYUNGBAR_ pic.twitter.com/WY5COM6bdG

— Burj Khalifa (@BurjKhalifa) December 29, 2020
His fans soon reacted to the display and tweeted,
Kim Taehyung is the first Korean Celebrity to have Individual AD on Burj Khalifa and since it's at end of the year makes it more exciting and we remember how excited Tae was when he saw Burj Khalifa and fountain. He deserves everything. #TaehyungOnBurjKhalifa

— tae ⁷ (@taesdildoasf) December 26, 2020
#KIMTAEHYUNG is the First Korean idol whose b'day ad is played on world tallest tower.. 🥰🥰U deserve everything, all these fans, all the happiness in the world#TaehyungOnBurjKhalifa pic.twitter.com/wko127rfBx

— Shamiya Shami Iraqui (@IraquiShami) December 26, 2020
[TRENDS] #TaehyungOnBurjKhalifa is currently trending with 13K+ tweets. pic.twitter.com/3vKjBFWGr3

— BTS V PRESS| #HappyTaehyungDay (@KTH_PRESS) December 26, 2020
The clip that played out on the tower was live-streamed on social media so that fans across the world could join in and witness the grand display.
LIVE STREAM: BTS V (Kim Taehyung) Birthday ad on Dubai's Burj Khalifa by @KIMTAEHYUNGBAR_ 💜 #HappyTaehyungDay #HappyBirthdayTaehyung #TaehyungOnBurjKhalifa @BTS_twt @BurjKhalifa https://t.co/XgtOo8Ycdg

— KTH DUBAI UAE 🇦🇪 (@KTH_UAE) December 29, 2020
Wishing Kim Taehyung aka V a Happy 25th Birthday.
Also Read: Watch: BTS releases 'Dynamite holiday remix' and ARMY can't keep calm