Here's Why BTS Members V And Jungkook Should Not Be Allowed In Kitchen
Check Out The Reasons Why BTS Members, V And Jungkook Should Not Be Allowed In KitchenBTS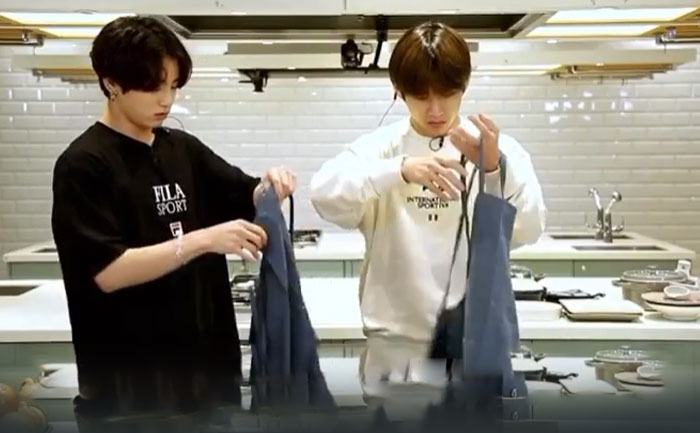 BTS members never fail at entertaining their fans, whether it's their stage performances or their RUN BTS episodes. The guys give their best to keep their audience hooked. Recently, the boys were seen trying their hands at cooking, we must say that Jungkook and V shouldn't be allowed in the kitchen, precisely for cooking. Take a look at the highlights from their recent cooking session.
Reasons Why V And Jungkook Shouldn't Be In Kitchen
Messing Up With Aprons
V and Jungkook didn't actually know how the aprons work. They caught candid while messing up with the aprons. At last, it was Jungkook who figured out how it's worn and he guided V.
No Tools Needed
Jungkook used his hands to crush the sesame, while he was garnishing the dish. He couldn't find the tools which were just around them and hence he used his muscle power.
No Idea What It Is
V and Jungkook, both of them looked confused while adding the ingredients. Jungkook tasted each ingredient before adding it correctly. The hilarious part was when, V almost added extra salt thinking that it was sugar. But, later they tasted it and corrected their mistake.
Focused
V was too focused on cleaning the vegetables. Even he made sure that Jungkook washes them with warm water.
Cuteness Overload
No matter what they do, they just can't stop being adorable. In the episode, V revealed that he doesn't eat spicy food and unfortunately their dish turned out to be the spicy one. When V tasted it he couldn't stop but screamed because it was spicy and he couldn't drink water as they were running out of time. Thus, Jungkook gives him water. We all need a friend like JK.
That's How They Cut Vegetables
V was literally measuring the length of his finger and he was guiding Jungkook while cutting the vegetables.
Frustrated Jungkook
Jungkook seemed to be frustrated as there were communication barriers with Jin, who was guiding them with the recipe.
Good Job
At last they managed to make the dish and they were quite satisfied with the way they made it.
Time To Taste
Everyone in the team even appreciated V and Jungkook for their cooking skills, but they couldn't stop laughing because of the way these two acted in the cooking area. More than anything, they were concerned about the safety of VKook.
For more such updates, stay hooked on to The Live Mirror.
Also Read: Big Hit To Reschedule BTS's "Map Of The Soul" Tour Due To COVID-19