California Wildfire: Raging fire Destroys Washington Town
California wildfire burning across 25 miles in day; roars through California, Oregon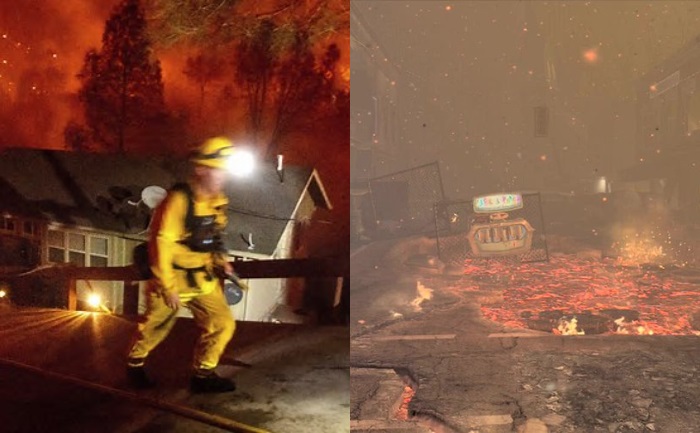 A wildfire driven by high wind and unprecedented temperature raged across the US West on September 8. It is incinerating the Washington town of Malden and threatening communities in Oregon and California. Three people have been found dead from the uncontrolled wildfire burning north of Sacramento, California. It is burning thousands of homes and other structures.
Oregon wildfires making it look straight apocalyptic.#OregonFires #oregonwildfires #Oregon pic.twitter.com/in5AeQVGc6

— NULL ⣢ (@0xUID) September 9, 2020
Reuters reported The three victims, were found in two separate locations. This brings the total death toll from the devastating California wildfires this year to at least 11.
Wildfires have burned a record 2 million acres in California this year, and the danger for more destruction is so high the US Forest Service announced Monday it was closing all eight national forests in the southern half of the state.#californiafire #ClimateCrisis pic.twitter.com/jYa6VozJ2k

— Leah Namugerwa (@NamugerwaLeah) September 9, 2020
A sign along Interstate 5 north of Eugene, Oregon warns drivers that Highway 126 eastbound is closed due to wildfires. Lane County Search and Rescue along with Lane County sheriff's deputies are going door-to-door, warning residents east of Springfield, Oregon, to evacuate ahead of a fast-moving wildfire.
Full video on my Instagram (mylifeasdesire) #OregonFires2020 #oregonwildfires #Oregon pic.twitter.com/uOGDUQKJpI

— desire rukundo (@billsult11) September 9, 2020
California has set a record with nearly 2.5 million acres (1 million hectares) burned this year.
Also Read: California Fires: 560 blazes have torched at least 771,000 acres