Lok Sabha Election Results 2019: Celebs pour in with congratulatory messages for Modi
The 2019 Lok Sabha Election results are almost out and celebs are wishing PM Modi on his win.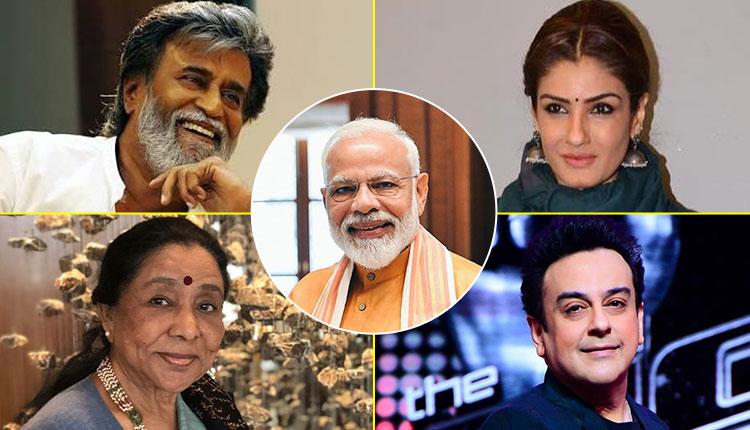 The BJP-led Modi government is all set to return to power as it is leading in more than 300 seats. PM Narendra Modi is coming back to rule for yet another five years. This is for the first time in a Lok Sabha election that results of voting machines will be matched with VVPATs or slips. Exit polls already declared BJP as the winner with a majority of seats. From common men to celebs, everyone is pouring in with congratulatory messages for Modi on social media.
From Rajinikanth, Asha Bhonsle, Raveena Tandon to Adnan Sami, many celebs wished PM Modi for his second term. Have a look at the tweets below.
The country has decided congratulations hon prime minister @narendramodi sir on your victory. Looking forward to the future under you guidance and leadership where all Indians move ahead together #JAIHIND

— Varun Dhawan (@Varun_dvn) May 23, 2019
Respected dear @narendramodi ji
hearty congratulations … You made it !!! God bless.

— Rajinikanth (@rajinikanth) May 23, 2019
Congratulations Prime Minister @narendramodi . 🇮🇳 Jai Hind. 🙏🏻

— Raveena Tandon (@TandonRaveena) May 23, 2019
Congratulations #PrimeMinister @narendramodi ji for a historic win in the #Elections2019. I hope you will take us to great heights. I promise to always voice my honest opinions in the interest of our great nation as a citizen without fear. Please spread love. God bless. Jai Hind.

— Siddharth (@Actor_Siddharth) May 23, 2019
Heartiest Congratulations to @narendramodi ji on a smashing win!!! I'm on a holiday in Germany but have been glued to the TV & internet since early morning with a huge smile on my face!!😃😄
🙌 Jai Hind!🇮🇳

— Adnan Sami (@AdnanSamiLive) May 23, 2019
The Indian electorate has voted wisely. Congratulations to Hon. PM Modi, NDA & all BJP party cadres who have worked tirelessly to take our country into a Golden Age that is long overdue. Jai Hind 🙏🏼

— ashabhosle (@ashabhosle) May 23, 2019
Congratulations to @BJP4India on another historical win.
May they take our great nation to new heights. Wishing PM Shri @narendramodi and his ministers much success for the next 5 years. Good luck all.
Jai Hind! 🇮🇳

— Shruti Seth (@SethShruti) May 23, 2019
Today no party, no individual won, today is that historic day when India won. We are very fortunate to have a leader like @narendramodi ji in our times, this is the beginning of a new era, time to break free and regain our lost glory…. Bharat Mata ki Jai ….Jai Hind 🙏

— Rangoli Chandel (@Rangoli_A) May 23, 2019
We will keep you updated on more celebs wishes. Till then stay tuned to our space.