Chandrababu Naidu meets MK Stalin, prefers him over PM Modi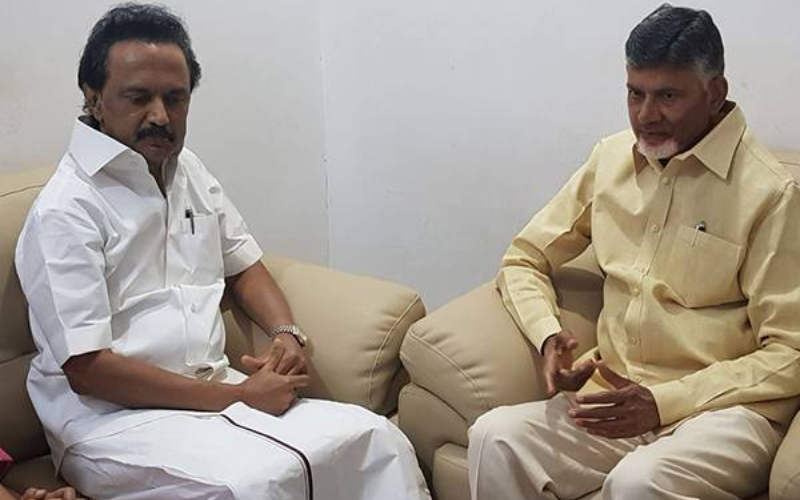 Andhra Pradesh Chief Minister N. Chandrababu Naidu on Friday met DMK president M.K Stalin and asserted that he is not the face of an anti-BJP, which he is trying to forge. But, he refrained naming the leader who would lead the alliance.
During his 50 minutes long meeting with Stalin, he urged him to join the alliance to dislodge the BJP government.  Naidu lauded the Dravidian party leader and said that MK Stalin is better than Prime Minister Narendra Modi.
Responding to question, if he was the face of the alliance, Naidu said, "No, I am not the face of this alliance. You have to understand that. I am very clear I am not an aspirant, I am only a facilitator… I will bring everybody together. we will decide and take things forward."
On who would lead the alliance, he said there were so many leaders. "Even Stalinji is better than Narendra Modiji… there are strong leaders… we will work that out and decide."
Stalin pledged DMK'S full support to Naidu's effort to rally all parties to dislodge the BJP government at the Centre, which has been "intimidating" even autonomous institutions like the RBI.
Stalin also assured Naidu that he would participate in a proposed consultative meeting of leaders at Delhi or any other suitable place to take forward the initiative.
While Rahul Gandhi led-Congress has a pan-India presence, Naidu described regional leaders, including himself, West Bengal Chief Minister Mamata Banerjee, Stalin and former prime minister Deve Gowda as strong leaders in their respective states, who were coming together against the BJP.
Also read: DMK leaders pledge support to Stalin