Chhattisgarh Assembly elections 2018: Polling for second phase begins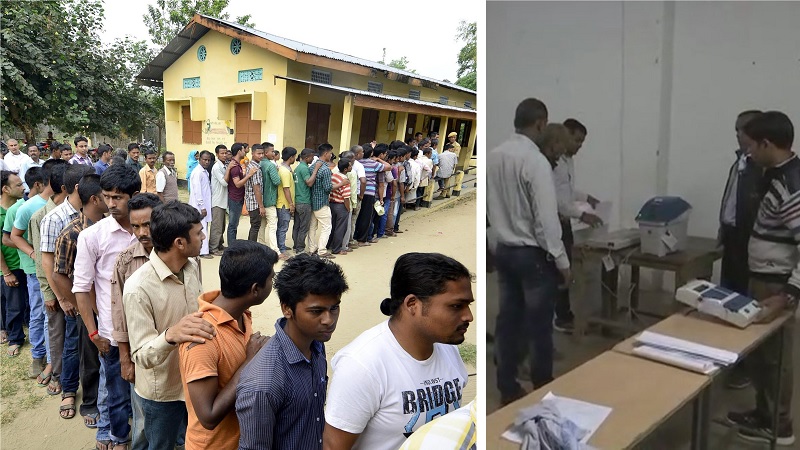 Amid stringent security arrangement, the second and final phase of the Chhattisgarh Assembly elections has begun for 72 seats of 19 districts today. The voting which began at 7 am will culminate at 5 pm.
Notably, voting at two out of 72 seats began at 7 am and will culminate at 3 pm. These seats are Amaamora and Modh while voting in remaining seats will take place from 8 am to 5 am. Ahead of voting, mock polling was conducted at a polling station in Surguja's Ambikapur.
Electronic Voting Machines (EVM) and Voter Verifiable Paper Trail Audit (VVPAT) machines were installed at all the polling centres. In the meantime, security has been tightened in the state with the deployment of over one lakh security in lieu of Naxal attacks.
Voters today will decide the fate of nine ministers, assembly speaker and some other prominent leaders of the ruling BJP as well as of the Congress and others. As many as 1,079 candidates, including 72 each from the BJP and the Congress, are in fray. Forty-six are for the general category, while nine are reserved for Scheduled Castes and 17 for Scheduled Tribes candidates.
For the second phase of polls, there are 1,53,85,983 voters, including 77,46,628 men, 76,38,415 women and 940 of the third gender. As many as 19,296 polling booths have been set up for the second phase. The highest number of 46 contestants is in the Raipur City South constituency, while the lowest number of six contestants is in the Bindranavagarh seat.
State assembly speaker Gaurishankar Agrawal has been retained from the Kasdol seat, which he won in 2013 elections. The Congress has this time fielded a fresh face, Shankutala Sahu, from the seat.
The BJP has fielded nine ministers Brijmohan Agrawal (Raipur City South), Rajesh Munat (Raipur City West), Amar Agrawal (Bilaspur), Bhaiyyalal Rajwade (Baikunthpur), Ramsevak Paikra (Pratappur), Punnulal Mohile (Mungeli), Prem Prakash Pandey (Bhilai Nagar), Dayaldas Baghel (Nawagarh) and Ajay Chandrakar (Kurud), and state chief Dharamlal Kaushik (Bilha).
Congress state chief Bhupesh Baghel (Patan), Leader of Opposition T S Singhdeo (Ambikapur), Congress MP from Durg Lok Sabha seat Tamradhwaj Sahu (Durg rural), and former Union minister Charandas Mahant (Shakti) are among the key opposition party candidates in the fray.
A three-way fight is expected in several seats of Bilaspur division where Ajit Jogi's party and the BSP have a considerable presence. Jogi is contesting from the Marwahi segment where the BJP and the Congress have fielded new faces Archana Porte and Gulab Singh, respectively. His daughter-in-law Richa Jogi (BSP) is likely to give a tough fight to Saurabh Singh (BJP) Chunnilal Sahu (Congress) in Akaltara.
Seeking a fourth consecutive term, the BJP has this time set a target of winning 65 plus seats in the 90-member Assembly. On the other hand, Congress is seeking to end its 15-year exile from power in the tribal-dominated state.
However, the coalition between the Mayawati-led Bahujan Samaj Party (BSP), former chief minister Ajit Jogi's Janata Congress Chhattisgarh (J) and Communist Party of India (CPI) has added a twist to the poll battle.
Also Read: Chhattisgarh Assembly elections 2018 LIVE UPDATES: Polling concludes for first phase with 70% voter turnout