Chhattisgarh Assembly elections: Rahul Gandhi to address farmers in Raipur today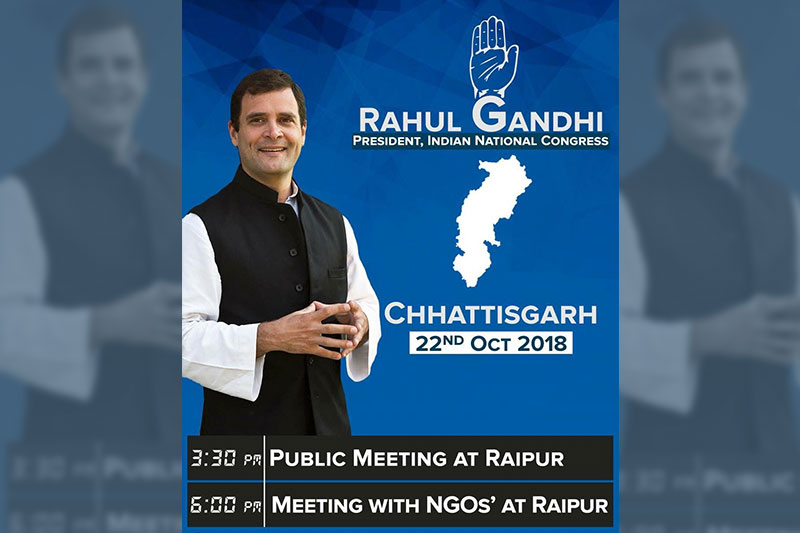 With days remaining for the first phase of Assembly elections in Chhattisgarh, Congress president Rahul Gandhi is leaving no stone behind to garner maximum public support for the party. He is scheduled to kick start party's poll campaign by addressing a rally of farmers and then meeting NGO workers in the state.
Informing about his plan of visit, Rahul took to twitter and wrote, "Going to Chhattisgarh. Will be meeting with progressive people through gatherings in Raipur at 3:30 pm. Then at 6 pm, will discuss the issues with NGOs workers, working in difficult conditions. You all can join me through Facebook Live."
छत्तीसगढ़ आ रहा हूँ| जन-सभा के माध्यम से रायपुर के प्रगतिशील लोगों से दोपहर 3:30 बजे मुलाक़ात का सौभाग्य मिलेगा| फिर, शाम 6:00 बजे, कठिन परिस्थिति में काम कर रहे NGO कर्मियों से चर्चा होगी| आप Facebook Live के माध्यम से इन कार्यक्रम का हिस्सा बन सकते हैं| https://t.co/xjCr3eAbTV pic.twitter.com/K93172z122

— Rahul Gandhi (@RahulGandhi) October 22, 2018
The state Congress spokesperson Sushil Anand Shukla briefed the details of the schedule. He said, as reported by The Times of India, "The AICC chief will arrive at the Swami Vivekanand airport at around 2:10 pm on Monday. He is scheduled to address a rally of farmers from the Science College ground at around 3 pm."
Shukla also added that Gandhi will also hold meetings with the state party workers and take a stock of the poll preparedness. He is likely to meet delegations of people, who represent various sections of the society before leaving for the national capital.
This is the first time Gandhi will visit the state after the election dates were announced by the election commission on October 6. The first phase of elections for 18 constituencies will take place on November 12 and for the remaining 72 seats, the polls will take place on November 20. The results will be declared on December 11.
ALSO READ: Telangana: Rahul Gandhi slams PM Modi, CM Chandrasekhar Rao for cheating people