Chhattisgarh Assembly election results 2018 LIVE UPDATES: Congress leads in 66 seats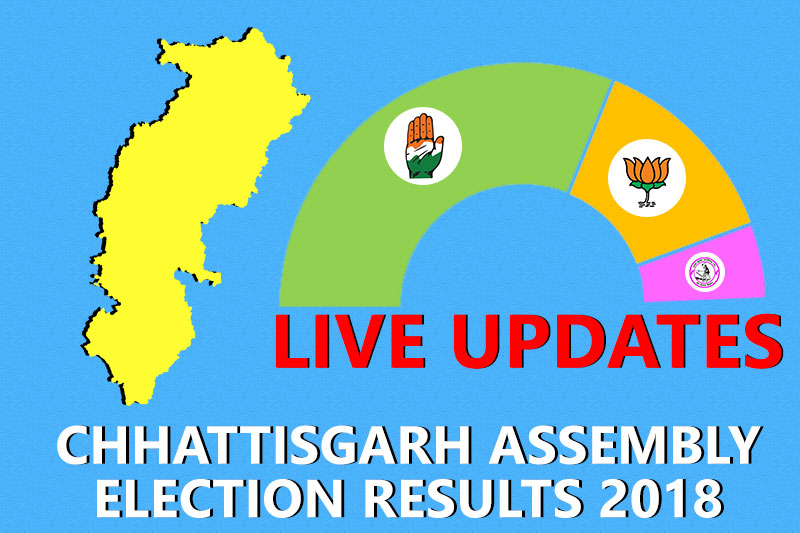 Counting of votes for Chhattisgarh Assembly elections 2018 is being held today. Chhattisgarh Assembly elections witnessed a three-cornered battle with the BJP taking on the Congress and an alliance led by the Chhattisgarh Janata Congress and BSP. The Live Mirror brings to you the 2018 Vidhan Sabha election results.
Chhattisgarh Assembly elections 2018 for the 90 constituencies were held on 12 November and 20 November for 18 and 72 constituencies respectively. Today is a day when the results for the Assembly elections will be declared. It will be a litmus test for both BJP and Congress ahead of 2019 general elections.
As many as 1,079 candidates, including 72 each from the BJP and the Congress, are in fray for the Chhattisgarh polls. Forty-six are for the general category, while nine are reserved for Scheduled Castes and 17 for Scheduled Tribes candidates.
State assembly speaker Gaurishankar Agrawal has been retained from the Kasdol seat, which he won in 2013 elections. The Congress has this time fielded a fresh face, Shankutala Sahu, from the seat.
The BJP has fielded nine ministers Brijmohan Agrawal (Raipur City South), Rajesh Munat (Raipur City West), Amar Agrawal (Bilaspur), Bhaiyyalal Rajwade (Baikunthpur), Ramsevak Paikra (Pratappur), Punnulal Mohile (Mungeli), Prem Prakash Pandey (Bhilai Nagar), Dayaldas Baghel (Nawagarh) and Ajay Chandrakar (Kurud), and state chief Dharamlal Kaushik (Bilha).
Congress state chief Bhupesh Baghel (Patan), Leader of Opposition T S Singhdeo (Ambikapur), Congress MP from Durg Lok Sabha seat Tamradhwaj Sahu (Durg rural), and former Union minister Charandas Mahant (Shakti) are among the key opposition party candidates in the fray.
A three-way fight is expected in several seats of Bilaspur division where Ajit Jogi's party and the BSP have a considerable presence. Jogi is contesting from the Marwahi segment where the BJP and the Congress have fielded new faces Archana Porte and Gulab Singh, respectively. His daughter-in-law Richa Jogi (BSP) is likely to give a tough fight to Saurabh Singh (BJP) Chunnilal Sahu (Congress) in Akaltara.
Seeking a fourth consecutive term, the BJP has this time set a target of winning 65 plus seats in the 90-member Assembly. On the other hand, Congress is seeking to end its 15-year exile from power in the tribal-dominated state.
Chhattisgarh Assembly election results 2018 LIVE UPDATES:
19:30 PM: Congress is leading in 66 seats, BJP in16 seats. BSP leading in 7 seats.
16:45 PM: Congress is leading in 65 seats, BJP in16 seats.
18:00 PM: Congress candidate TS Baba is way ahead of BJP's Anurag Singh Deo. While Baba has secured 77761 votes, Deo has managed 52727.
16:00 PM: Shailesh Pandey of Indian National Congress surges ahead with 28921 votes. He was fielded against BJP's Amar Agrawal.
3:40 pm: With Congress all set to come to power in Chhattisgarh, state Congress president Bhupesh Baghel and workers celebrate in Raipur.
15:40 PM: Chief Minister Raman Singh leading by a margin of more than 5,000 votes in Rajnandgaon constituency.
15:30 PM: Congress candidate Rekhchand Jain set to win Jagdalpur constituency by a huge margin of over 25,000 votes.
15:22 PM: Ajit Jogi's wife Renu Jogi is leading by more than 4,000 votes in Kota constituency
15:00 PM: One CRPF jawan injured in an IED blast in Chintagupha, Sukma. Further details are awaited.
14:50 PM: EC releases trends for 83 assembly constituencies. Congress continues with its impressive performance, surges ahead in 63 seats. BJP leading in just 13 seats. Ajit Jogi's Chhattisgarh Janata Congress (JCC) continues to lead in five seats.
14:45 PM: Raipur (West) constituency: Chhattisgarh PWD minister Rajesh Munat trailing by more than 3000 votes. Dharsiwan constituency: Congress leader Yogesh Sharmaleading by a margin of more than 10000 votes.
14:30 PM: Congress candidate Umesh patel leading from Kharasia. He was pitted agains BJP candidate OP choudhary.
14:15 PM: Good news for Congress. It is leading on all 12 seats of Bastar area. Chief Minister Raman Singh increases his margin of 3120 votes in Rajnandgaon constituency.
14:00 PM: Buoyed with Chhattisgarh election results, Pradesh Congress Committee president Bhupesh Baghel assures to lay the foundation stone for a new Chhattisgarh. He assures the electorate that he would tirelessly work for the people of the state.
13:50 PM: Election Commission releases trends for 83 constituencies. The Congress is all set to grab the power as it way ahead in 59 seats; BJP ahead in 17. Ajit Jogi's is likely to wrest five seats.
13:45 PM: TS Baba of Congress is ahead with 43298 votes. Congress' Anurag Singh Deo from the     Bharatiya Janata Party trails with 32418 votes.
13:40 PM: Stiff competition going on between BJP stalwart Raman Singh and Congress leader Karuna Shukla. At present Raman Singh is leading by 1300 votes.
13:35 PM: Dhamtari – Congress candidate Gurumukh Singh Hora trailing by 2200 votes. Sitapur constituency – Congress' Amarjeet Bhagat of Congress set to win against BJP leader Professor Gopal Ram.
13:30 PM: Congress' Shailesh Pandey ahead of BJP's Amar Agrawal from Bilaspur constituency.
13:15 PM: Dantewada constituency: BJP's Bhima Mandavi is ahead with 7072 votes. Congress' Devati Karma trailing with 6866 votes.
13:12 PM: Of the 18 seats which went to polls in the first phase of the elections in the state, the BJP has gained lead in only 2 of the seats.
Khairagarh: Congress
Dongargarh: Congress
Rajnandgaon: BJP
Dongargaon: Congress
Khujji: Congress
Mohla-Manpur: Congress
Antagarh: Congress
Bhanupratappur: Congress
Kanker: Congress
Keshkal: Congress
Kondagaon: Congress
Narayanpur: Congress
Bastar: Congress
Jagdalpur: Congress
Chitrakot: Congress
Dantewada: BJP
Bijapur: Congress
Konta: Others
13:10 PM: Raipur City South: BJP's Rijmohan Agrawal of Bharatiya Janata Party is leading with 10918 against Congress candidate Kanhaiya Agrawal who has bagged 9208 votes. Raipur City Gramin – Satyanarayan Sharma of the Indian National Congress is ahead with 12809 votes. He was contesting against Nand Kumar Sahu (Nande Bhaiya) of the BJP. Congress candidate Deepak Baij is leading by 7000 votes from Chitrakot constituency. Congress candidate Lakheshwar Baghel is leading by 10044 votes in Bastar constituency. Raipur (North) constituency: BJP Shrichand Sundrani is trailing by 4183 votes. He is pitted against Congress leader Kuldeep Juneja.
12:50 PM: EC has released the trends for 81 Chhattisgarh Assembly seats. Congress leading in 59 seats, BJP ahead in 16. Ajit Jogi's political outfit ahead in five seats and Gondvana Gantantra Party leading from a single seat.
12:20 PM: State presidents of the BJP and the Congress, Dharamlal Kaushik and Bhupesh Baghel leading from Bilha and Patan seats respectively.
12:15 PM: Chhattisgarh Chief Minister Raman Singh is leading by a margin of 1,200 votes in Rajnandgaon assembly constituency, election officials said. Singh is pitted against Karuna Shukla (Congress), niece of former prime minister late Atal Bihari Vajpayee.
12:01 AM: Five ministers in the Raman Singh government Brijmohan Agrawal (Raipur City South), Kedar Kashyap (Narayanpur constituency), Mahesh Gagda (Bijapur), Dayaldas Baghel (Nawagarh) and Amar Agrawal (Bilaspur) trailing.
11:40 AM: According to Election Commission Congress is leading in 53 seats, BJP in 16, Communist Party of India in 1, Gondvana Gantantra Party in 1 and Janta Congress Chhattisgarh (J) in 4 seats.
11:25 AM: As per ECI trends, Congress is heading for a win. The grand old party which has been away from power since 2003 was leading on 40 seats, BJP on 15, Janata Congress on 5 seats.
11:15 AM: After three hours of counting trends say that Congress was ahead in 60 assembly seats. The ruling BJP was ahead in 21 seats and BSP+2 and Others 7.
11:00 AM: Shocker for the BJP. Raman Singh again trails from Rajnandgaon. Congress leader and niece of late former prime minister Atal Bihari Vajpayee  Karuna Shukla leads from the home turf of Raman Singh.
10:50 AM: JCC congress candidate Pramod Sharma is leading from Balod Bazar, Ajit Jogi leading by a margin of 5000 votes from Marwahi constituency and Leader of the opposition in the Chhattisgarh Assembly TS Singhdeo ahead by a margin of 6800 votes from Ambikapur.
10:43 AM: Latest trends say that the Congress was racing ahead in 58 seats, BJP in 24, BSP+2 and Others 5. The BJP is ahead in Vaishalinagar, Pamgarh, Bilaspur and Rampur seats.
10:40 AM: The Congress was leading in Ramanujganj, Raipur Rural, Raipur Nagar Uttar, Sanjari balod , Durg rural, Samari, Ambikapur, Katghora, Pali-Tanakhar, Beltara, Saraipali, Basna, Bilaigarh, Baloda Bazar, Kavardha and Narayanpur seats.
10:35 AM: An election official confirms Ajit Jogi was leading in Marwahi seat, while his wife Renu Jogi was ahead in Kota constituency.
10:45 AM: Chhattisgarh Health Minister Ajay Chandrakar leading in Kurud constituency, Bhilai Mayor Devendra Yadav from Congress leading in Bhilai Nagar and former Ajit Jogi's daughter-in-law Richa Jogi, who is contesting on a BSP ticket is leading from Akaltara constituency.
10:35 AM: Official ECI trends – Congress leading on 21 seats, BJP leading on 5, Janata Congress on 2 seats.
10:25 AM: As per the official Election Commission trends, the Congress was leading on 13 seats, BJP on 4 seats, Janata Congress on 1 seat.
10:22 AM: Congress ahead in 11 of the total 12 seats in Maoists-affected Bastar region.
10:21 AM: Home Minister Rajnath Singh comments on the Assembly election result trends. "These are early trends. We hope to perform well," the senior BJP leader said.
10:20 AM: As of now Congress was ahead in 57 seats and the incumbent BJP was leading in 26 seats. The alliance of Janta Congress Chhattisgarh of former Chief Minister Ajit Jogi and the Bahujan Samaj Party were leading in 2 constituencies.
10:10 AM: The Congress maintains its top spot according to the latest trends. The grand old party surging ahead in 51 seats, the incumbent BJP in 32 and BSP+ 1 and Independents 2.
10:08 AM: According to official ECI trends, former Chhattisgarh CM Ajit Jogi is at the third position from Marwahi. BJP candidate is leading and the Congress is at second at spot.
10:07 AM: Raman Singh bounces back, now leads with 3700 votes against Congress' Karuna Shukla. Devti Karma Congress leader is leading from Dantewada constituency.
10:00 AM: In the first two hours of counting, Congress is ahead in 46 Chhattisgarh assembly seats, the ruling BJP in 26 and BSP+ 1 and Independents 2.
9:30 AM: Congress continues to race ahead of the BJP.
9:25 AM: Congress Leading 50 Seats, BJP on 19 Seats in 90 Seat Assembly.
9:10 AM: Congress Leading on 37 Seats, BJP on 19 Seats and others leading on 90 Seat Assembly.
9:00 AM: Congress Leading on 24 Seats, BJP on 18 Seats, Others leading on 3 seats in 90 Seat Assembly.
8:50 AM: BJP is leading on 9, Congress on 9 seats and BSP on 4.
8:40 AM: Counting of votes for Chhattisgarh elections 2018 has started. Bharatiya Janata Party (BJP) is leading on 7 seats and Congress has also gained 7 seats while BSP is ahead on 3 seats.
8:45 AM: BJP is leading on 7 seats and Congress on 8 seats.
Also Read: Chhattisgarh Assembly Elections 2018 Live Updates: Polling concludes for second phase with 64.8% voter turnout