Telengana elections 2018: Congress Candidate Revanth Reddy detained ahead of KCR rally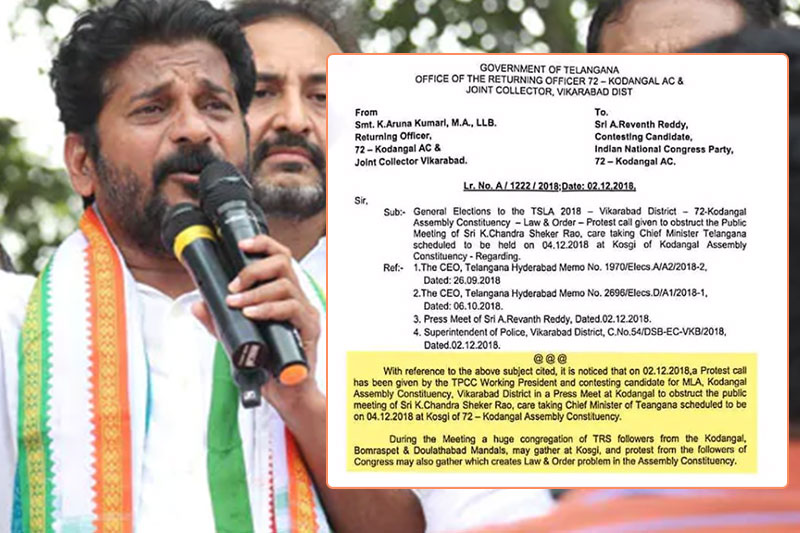 Early on Tuesday, the Congress candidate from Kodangal in Telangana, Revanth Reddy was detained for trying to 'obstruct' a public meeting of caretaker chief minister and Telangana Rashtra Samiti (TRS) chief K Chandrashekhar Rao.
Revanth Reddy's wife Geetha Reddy said that at about 3 am some people had knocked on their door and broke open and forced themselves in.
She also added, "My husband and I were sleeping in the room along with our daughter. Are we terrorists that they should treat us like this?"
Mr Reddy has reportedly been shifted to Jadcherla, around 90 km from his constituency Kodangal, with less than two days for campaigning to end.
On December 2 the state election body said, in a notice to the Congress party, that a protest call was given by Mr Reddy to stop KCR's campaign rally in Kodangal on December 4.
Image
The poll body also said that a law and order situation could arise as Mr Reddy's supporters may try to stop the rally.
Mr Rajat Kumar, the state poll body chief told NDTV, "We have imposed section 144 to ensure there are no law and order issues."
Mr Reddy and his associates' residences were raided last week. Rs 51 lakh were seized during the raids. Mr Reddy had alleged that he was facing politically motivated persecution.
Apparently, this is the second time Mr Reddy faced the ire of the Election Commission. Along with him four more politicians had received notices from the poll body for allegedly violating the Model Code of Conduct.
Assembly polls will be conducted in telengana on December 7, this year. Results will be declared on December 11.
Also read: Yogi Adityanath wants to rename Hyderabad as Pragyaraj