Congress Worker Attempts Suicide Outside Party HQ, Asks Rahul Gandhi To Lead Party
Congress worker attempted to commit suicide outside party headquarters in Delhi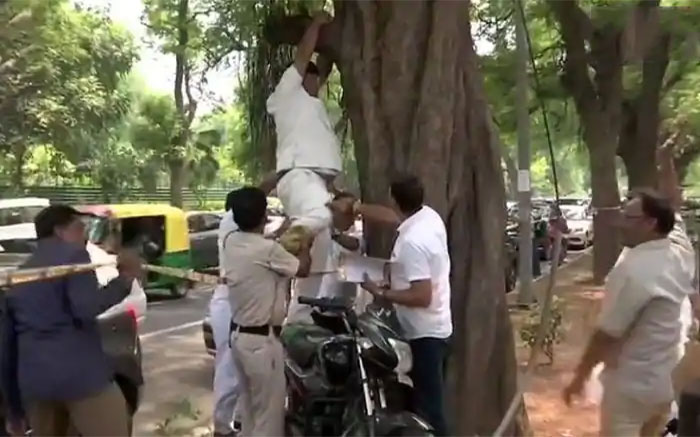 Rahul Gandhi — who has recently announced his resignation from the post of Congress President and adamant on his decision — a party worker made an attempt to commit suicide demanding Rahul Gandhi to take back his decision of quitting the presidency post.
Yes, the Congress worker who attempted to commit suicide by hanging himself outside the Congress headquarters in Delhi has been safely rescued by Police and locals. The worker said,  "Rahul Gandhi should take back his resignation else I will hang myself."
It is to be noted that the incident comes hours after scores of Congress activists staged protest against Rahul Gandhi's decision of resigning from the post of Congress President. Showing solidarity with Rahul Gandhi, there are several Congress leaders who have resigned from the party post as well.
Speaking to ANI, Delhi Working President Rajesh Lilothia said, "We have sat on an indefinite strike demanding Rahulji to continue as party chief."
He said that the responsibility of the Congress' drubbing in the recently concluded elections lies with all the party leaders and not on the party chief alone. He, however, stated that the party will obey the decision taken by Rahul Gandhi.
Notably, after a humiliating defeat in 2019 Lok Sabha elections, Rahul Gandhi had offered his resignation from his post but it was not accepted by the party and they asked him to continue to lead the party. However, Rahul remained firm on his decision and said yesterday, "I have made my decision clear. You all know it."
Notably, in the recently concluded Lok Sabha election, Rahul Gandhi himself was defeated in Amethi in Uttar Pradesh although he got elected from Wayanad in Kerala.
Also Read: Rahul Gandhi Confirms His Resignation As Congress Chief